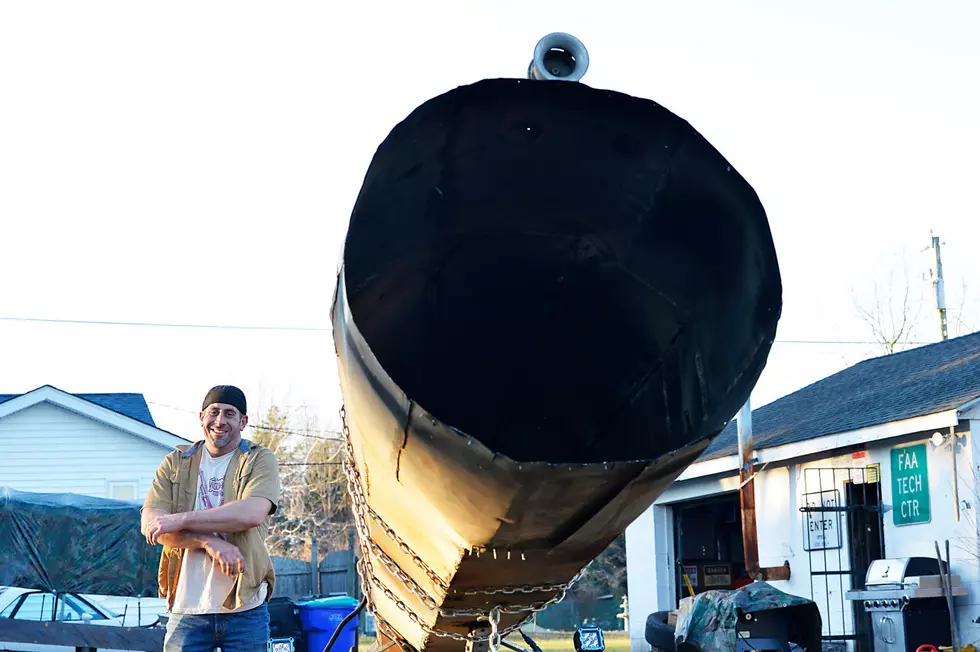 Man Creates Cannon That Controls The Weather
Rob Butkowski via Facebook
A mysterious booming sound that's been rocking a New Jersey town has been found to be the result of a homemade "Hail Cannon."
Rob Butkowski owns a vineyard, which he's protecting from bad weather. After he realized all it would take to stop a hailstorm from destroying his crops would be to break the clouds up, he knew he had to come up with a way to do it: A cannon that blasts a shockwave into the sky and moves clouds (and birds) that look dangerous to his crops.
"It sounds like a jet going by," said Butkowski, 34. "It's like the loudest thing you've ever heard just blew through your chest — it's amazing."
Butkowski made the cannon from scratch out of scrap metal from old street signs and other objects. He says he mostly built it because he's "bored from all this COVID sh*t."
Using instructions from the internet, he rigged a mixture of acetylene and oxygen in a propane tank that blasts from the barrel to keep icy weather away.
For a few weeks, his neighbors have heard him firing off the shockwaves, traveling 30,000 feet up and spreading in a 1.5-mile radius.
"You can see the split clouds apart," he said. "You can hear it rip."
Neighbors hate the booms, even though he follows noise ordinances and actually stops before they're in place. They're mostly upset because he followed all the laws to avoid being shutdown.
"It doesn't fire projectiles, and it's not a firearm or an explosive," Friel said, adding there are no plans to stop him. "It uses gas — and that's it."
"We're looking into Butkowski, and we are looking into all other possibilities," Mullica Township Police Chief Brian Zeck said.
"I'm gonna do whatever I want as long as it's legal," Butkowski said.
"Every time it goes off, I think there's been an accident," said Shawn Guevara, a 43-year-old mom who lives next door. "It scares the poop out of us."
---
Listen to our interview with Rob below.
---
Enter your number to get our free mobile app
READ ON: Weird, wild UFO sightings from throughout history