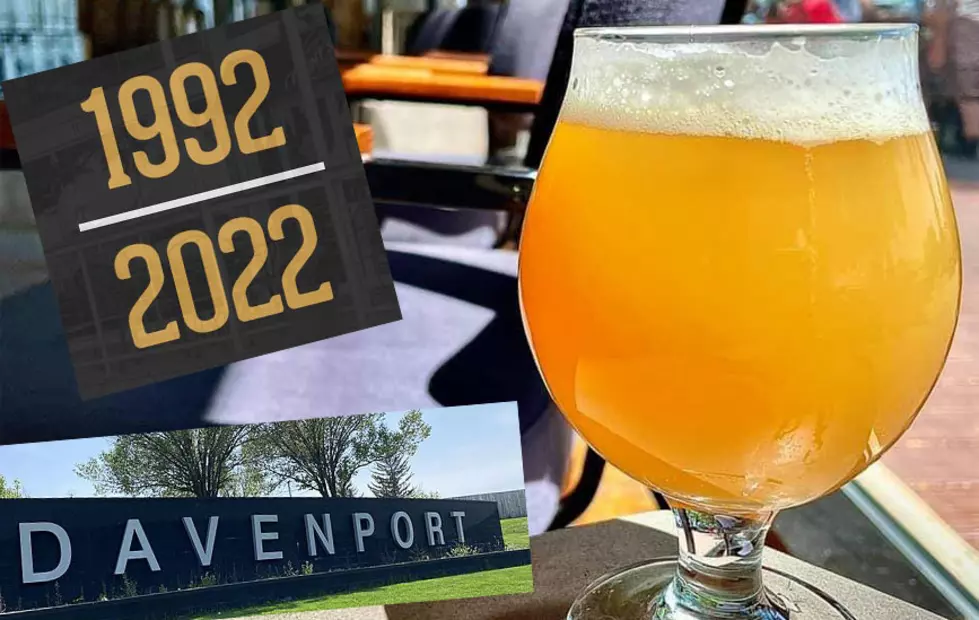 First Brewpub in Iowa Celebrates 30 Years All Week Long
Front Street
Not a lot of businesses have been around for 30 years.
Fewer restaurants have been around for 30 years.
Even fewer breweries have been around for 30 years.
Front Street History
Back in 1992, Steve and Jennie Zuidema opened Front Street Brewery along River Drive in Davenport, IA. Current Owners Tim Baldwin, Nate Sobotka, and Pat Sherman continue the tradition of incredible handcrafted food and beer.
Front Street gets the distinction of being the first brewpub in the state of Iowa, as well as the second-oldest brewery in the state– and the 300th craft brewery in the entire country. (To give that some perspective, there are over 9,000 breweries across America today.)
Once a 7-barrel brewery in the basement of the current Pub & Eatery location, FSB expanded their brewing operations in 2012 to the Freight House just down the road, and distribution followed. You can now find select FSB beers on tap at local bars and restaurants, and 160z. cans on the shelves of local grocery stores.
Time To Celebrate 30 Years
From Monday, October 24th through Saturday, October 29th both FSB locations are celebrating 30 years!
Stop by this week and grab a Raging River IPA, Bucktown Stout, and Cherry Bomb Blonde, or grab a Mahalo Pineapple Radler. FSB also releases a rotating IPA about every 6-8 weeks and creates limited cask (small batch) beer during their Firkin Friday tappings.
Beer Specials ALL WEEK – $3 Core FSB 16oz. Pints
Monday 10/24 – Schaa-Bo's Korean Fusion Food Truck 6:00pm

Tuesday 10/25 – 90's Pop Culture Trivia 6:30pm

Wednesday 10/26 – 90's Music Bingo 6:30pm

Thursday 10/27 – Live Music with Rebecca & Alan 6:00pm

Friday 10/28 – Live Music from Playlist QC! 6:00pm with appearances from the FSB Beer Models; Cherry Bomb Blonde and Goldilocks 6:30pm


Saturday 10/29 – Live Music with Andrew Jacob & Lisa Lyn 6:00pm
FSB Pub & Eatery
HAPPY HOUR: Monday-Thursday with 1/2 OFF Select Appetizers 3:00-6:00pm

Monday: $2 OFF FSB Mugs

Tuesday:$2 OFF FSB Pints

Wednesday: $2 OFF Whiskey Drinks

Thursday: $2 OFF FSB Growler Fills


Friday 10/28 – Live Music with Mo Carter 6:00-8:00pm
Chef Features ALL WEEK – Follow the Front Street Pub & Eatery page to see what their Chefs Come Up With!!
Upcoming QC Brewery Events to Check Out

What's Tappening
Join the Club!
On the second Saturday each month, local craft beer fans get together at a local brewery, taphouse, or pub to support the local craft beer scene.
QCBC members get exclusive deals on beer during meetups, take part in the six-pack mix-pack bottle share, get chances to win giveaways each month, and access to discounted and FREE tickets to some of the best craft beer events.
Come make some new friends, sign up at CraftQC.com today!
Barbecue, Pizza, & Beer-Illinois' Route 84 has Some Hidden Gems This Time of Year
Road trips aren't complete until you've stopped into some hidden gems along the way.
Illinois Arcade House
If you want a place to entertain or be entertained...a short drive to Bloomington will put you right!