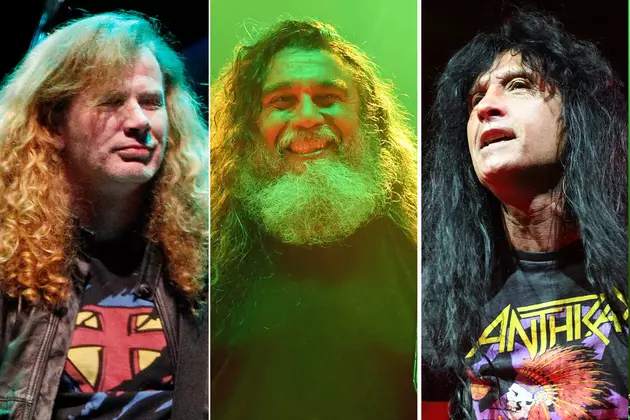 Dave Mustaine Says Big Four Shows Without Metallica Could Happen
Terry Wyatt / Ethan Miller, Getty Images
Megadeth frontman Dave Mustaine is hoping the Big Four of thrash metal can share a stage again before Slayer retire – but he's not sure Metallica will agree to take part. If they don't, he believes Megadeth, Slayer and Anthrax could still assemble a show.
All four '80s bands finally played together in 2010 and 2011, and speculation has continued since then that more events could be staged. The announcement last week that Slayer will bow out at the end of their upcoming farewell tour has given the prospect new urgency.
"I think if you asked the three of us, that our camps would probably say 'yes,'" Mustaine told Eddie Trunk in a new interview with SiriusXM. "If Anthrax, Slayer and Megadeth all wanna do it, and Metallica doesn't, then what do we do? The Big Three? I'm sure that a lot of people would like to see that, and that may be what it is. You know, you may end up having it be the Big Three plus No. 5, if we have Exodus play with us."
You can listen to the interview below.
Mustaine added that he still hoped Big Four shows could be arranged, perhaps in Japan, South America and Asia, to give fans "an opportunity to see it before it goes away forever." But he revealed he'd want the balance to be different from the earlier shows, in which Metallica had a clear leading role with longer set times and more stage space. "I would love to see it done in a way where we all got treated fairly … but I don't think that's gonna happen," he said. "And it's cool, because Slayer's gonna go down in history, and they don't need the Big Four to make them any more legendary than they already are. Nor do I."
Meanwhile, in a separate interview, Anthrax guitarist Scott Ian revealed that he understands the decision made by Slayer frontman Tom Araya and guitarist Kerry King to quit the road five years after the death of guitarist Jeff Hanneman (which led to the hiring of Exodus guitarist Gary Holt).
"I've been around those guys long enough – I get it," Ian told WRIF (via Blabbermouth). "As great as it's been, and Gary's a motherf––er on guitar and there's nobody else that could have filled that role better than Gary Holt. But still, they lost Jeff, and I understand how, after that, certainly for Tom and Kerry, nothing will ever be the same. I can understand that they were able to come to what was obviously a very tough decision to say, 'All right. Let's put an ending on this.'"
He noted that "all the best things have a great ending, whether it's a book, a movie, a TV series. If you don't stick the ending, it's almost like, what was the point in the first place? And I like the way they're doing this, and I really think they're gonna go out in a big way and really stick the ending."