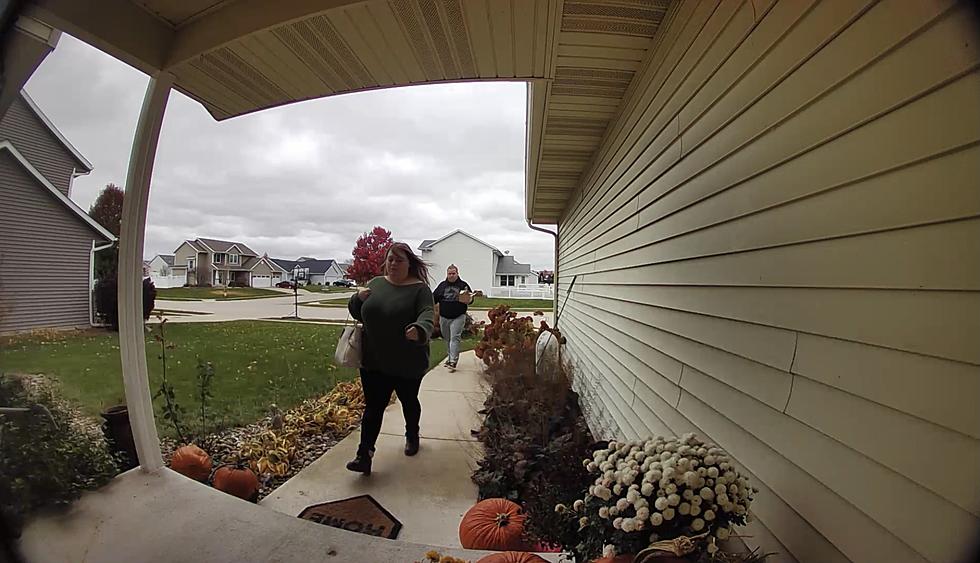 Bettendorf Woman Going Viral For Epic Fail [VIDEO]
Epic Fail caught on Ring Doorbell Camera
What was supposed to be a kind gesture turned into an epic fail, and now a viral video.
Twenty-three-year-old Cosmetologist and resident of the Quad Cities, Morgan Boone, was visiting her parents on Sunday afternoon when something not so satisfying happened. Morgan and her boyfriend had gone out to pick up some coffee as a kind gesture for Morgans' family. As the two returned to the house with the coffee, Morgan was casually walking towards the front door when her parent's Ring Doorbell Camera caught something quite, well, interesting.
Morgan picked her foot up to climb the single step leading to the front door when all of a sudden, BOOM! Morgan accidentally missed the single step and faceplanted into the front door. Her boyfriend Jared slowly walks up to her (with the coffee cups in hand) and casually says "Are you OK?" While that was happening on the outside, her parents inside were wondering why she banged on the door so hard with her hand. Little did they know what just happened. As Morgan was carried into the house, teary-eyed and a banged-up face, her family asked what happened. To which Morgan replied, "check the doorbell camera."
Morgan and her family couldn't help but laugh at her unfortunate tumble. Morgan decided to upload the video footage to TikTok, where it blew up overnight. The video now has over 1 million views and is still growing! Morgan decided to caption her video "I fall so often that my bf is unfazed." 
Click Here to watch the TikTok video
Essential Winter Emergency Kit Items
Winter season in the Quad Cities means cold temperatures, heavy snow, and slick roads. Hopefully, you won't ever need to tap into your winter emergency kit, but it's better to have one in your car than to be unprepared. Make sure you have these essential items in your car before winter arrives in the Quad Cities.
TYCOGA Vineyard & Winery
TYCOGA Vineyard & Winery in DeWitt, IA is allowing you to enjoy their patio during the winter months. Rent one of their heated igloos to enjoy their award-winning wine and wood-fired pizzas with your 7 closest wine friends.