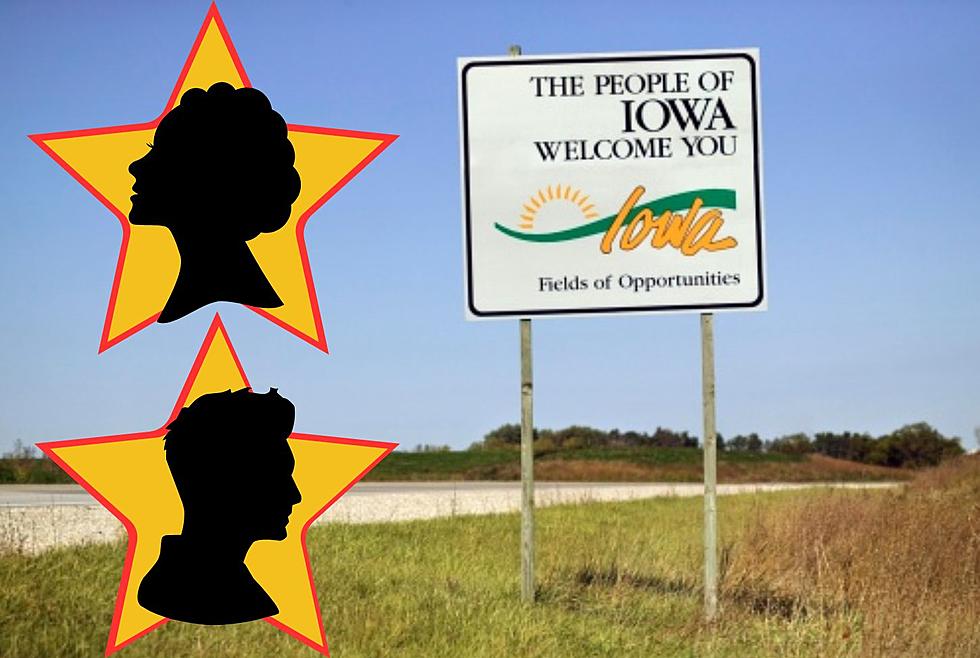 13 Celebrities You Didn't Know Lived In Iowa
Canva
As Iowa has been stapled as a quiet farm state, many people don't even know that Iowa exists. It's nice to see that celebrities who have made it big were born and raised in Iowa and continue to represent the beautiful state.
Here are a few celebrities you didn't know came from Iowa.
13.) Jake Gervase (Davenport)
Jake Gervase is an American football linebacker for the Los Angeles Rams of the National Football League. He was born in Davenport and played college football at the University of Iowa. His first Superbowl win was with the Rams in 2022.
12.) Brandon Routh (Des Moines)
We all thought Superman was born on planet Krypton but turns out he was born in Des Moines, Iowa! Brandon Routh portrayed Clark Kent in the 2006 film "Superman Returns." He also portrayed The Atom in "Arrow." Brandon Routh was raised in Norwalk, Iowa, and also attended high school there.
11.) Johnny Carson (Corning)
John William Carson was an American television host, comedian, writer, and producer. He is best known as the host of The Tonight Show Starring Johnny Carson. He was born in Corning and moved throughout southwest Iowa in his childhood before leaving the state for Nebraska.
10.) Danai Gurira (Grinnell)
Danai currently stars as Michonne, one of the most popular characters in AMC's critically-acclaimed original series "The Walking Dead." She lived in Grinnell in her early years before moving to Zimbabwe with her family.
9.) Chris Soules (Arlington)
Christopher Soules is an American (fan favorite) reality television personality and farmer who starred in the nineteenth season of ABC's The Bachelor. The proud country boy has roots in Arlington. He still lives there today and works on a farm.
8.) Kurt Warner (Burlington)
Kurtis Warner was an American former football quarterback who played in the National Football League for 12 seasons, primarily with the St. Louis Rams and Arizona Cardinals. He was raised in Iowa and played college football for Northern Iowa. He played in the Arena Football League for the Iowa Barnstormers and eventually was signed into the NFL.
7.) Shawn Johnson (Des Moines)
Shawn Johnson East is an American former artistic gymnast. She is the 2008 Olympic balance beam gold medalist and team, all-around, and floor exercise silver medalist. She was born and raised in Des Moines, attending public high school there.
6.) Lolo Jones (Des Moines)
There must be something in the water because Iowa has also produced this amazing athlete. Lori Susan "Lolo" Jones is an American hurdler and bobsledder who specializes in the 60-meter and 100-meter hurdles. She won three NCAA titles and garnered 11 All-American honors while at Louisiana State University. Her family struggled when she was a child and for a while, they lived in the basement of a Des Moines Salvation Army.
5.) Elijah Wood (Cedar Rapids)
Elijah Jordan Wood is an American actor and producer. He is best known for his portrayal of Frodo Baggins in The Lord of the Rings film trilogy and The Hobbit: An Unexpected Journey. Wood was born and raised in Cedar Rapids. His family moved to Los Angeles when he was eight so as to pursue his acting career.
4.) Tom Arnold (Ottumwa)
Tom Arnold was born in Ottumwa in southeast Iowa. Arnold is an American actor and comedian. He is best known for playing Arnie Thomas on Roseanne, Jackie Thomas on The Jackie Thomas Show, Tom Graham on Tom, and Tom Amross on The Tom Show.
3.) Herbert Hoover (West Branch)
America's 31st President from 1929 to 1933. Herbert Hoover was born in the little town of West Branch.
2.) Ashton Kutcher (Cedar Rapids)
Ashton Kutcher was born and raised in Cedar Rapids. Christopher Ashton Kutcher is an American actor, producer, entrepreneur, and former model. He is most known for his role of Kelso on That '70s Show.
1.) John Wayne (Winterset)
Marion Robert Morrison, professionally known as John Wayne and nicknamed The Duke or Duke Wayne, was an American actor who became a popular icon through his starring roles in films that were produced during Hollywood's Golden Age. He is especially known for his starring roles in Western and war movies. His birthplace in Winterset has been preserved as a historic site.