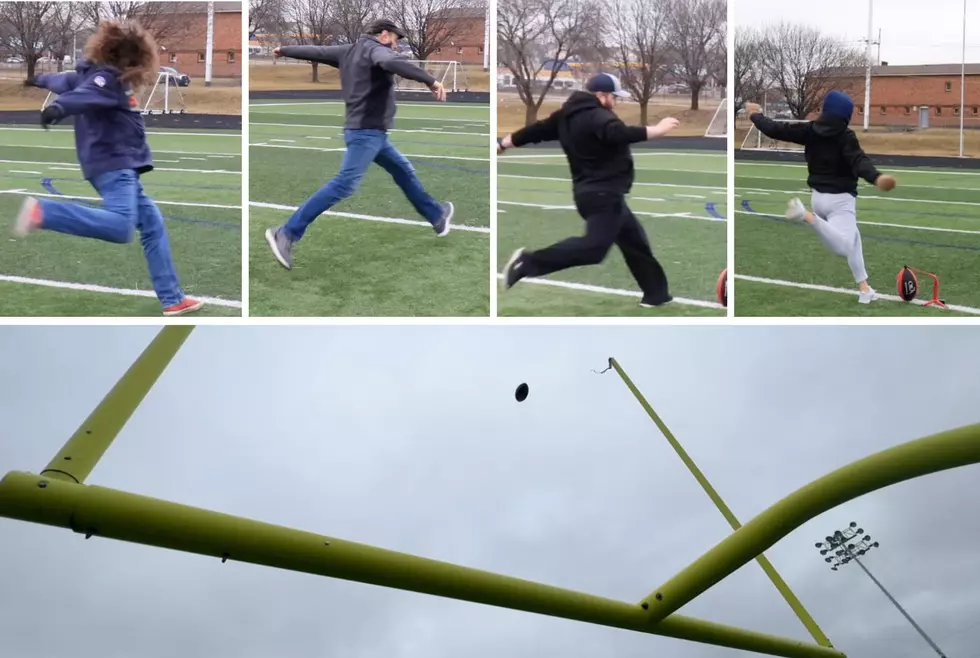 Who Made The Cut? The Dwyer & Michaels Morning Show Field Goal Challenge!
Dwyer&Michaels
Over the last week, we were talking about the placekicker for the Dallas Cowboys, Brett Maher, and how he missed 4 (now 5) field goals in a row.
We thought, "If that is your only job, shouldn't you be good at it?" But have you ever thought of how hard it actually is to kick a field goal?
We decided to see for ourselves. So we headed out to Brady Street Stadium on Friday Afternoon and kicked field goals.
Listeners Vote
We asked listeners, who on the morning show do you think can make a field goal?
The majority of people believed that Megan was most likely to make a field goal, considering she is the athlete of the show.
Many people thought Goose would make it since he is a jiu-jitsu master.
Some of the audience thought it would be Hairball, one comment said, "We seen the power in those legs from the creeper race… like a Damn Clydesdale!!!"
A couple of people thought Michaels could do it, but the only people that thought that were his mom and a guy named Kevin.
No one thought Dwyer would make it...
However, someone DID kick a field goal, see for yourself who it was.
Video Here:
Did you guess correctly?
Placements And Rankings
Calculating all the kick attempts everyone took (not shown in the video), here is how the placement finished:
1st Place: Hairball - He was the only one to make a field goal.
2nd Place: Megan - She could punt a ball past the goal but could not make the kick from the ground.
3rd Place: Michaels - He got extra points for kicking the stand over multiple times.
4th Place: Dwyer - He broke his toe kicking the football, but at least he tried.
5th Place: Goose - He failed to show up to the challenge which disqualified him from the competition.
If you put money on your bets, we hope you won! We also hope you throw some money this way so we can fix Dwyer's broken toe.
Thank you to our friend Mark at The Lucky Workshop for filming this for us!
Also a big thank you to Brady Street Stadium for letting us use the field!
HAVE A GREAT DAY!
People Around The Quad Cities Give Their Jail Experience a Review
We asked our listeners to give a Yelp review of their time in jail. Here is a mix of serious and smartass reviews that we received.