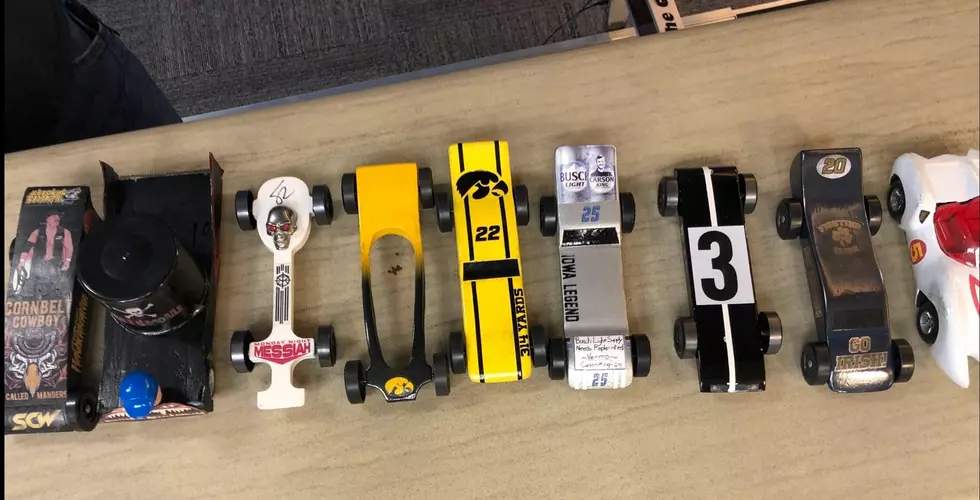 Watch the Celebrity Pinewood Derby and Vote For Your Favorite Car
Townsquare Media
Pat Miletich (MMA Champion, Hall of Famer, and commentator)
Seth Rollins (WWE)
Michael Nunn (Boxing Champion)
Carson King (Iowa Legend)
Pat Angerer (Iowa Hawkeyes and Indianapolis Colts)
Julian Vandeveldie (Iowa Hawkeyes and Philadelphia Eagles)
Jake Gervase (Iowa Hawkeyes and Los Angeles Rams)
"The Cornbelt Cowboy" Steve Manders (SCW Pro)
Alex Tanney (Monmouth Fighting Scots and New York Giants)\
Tim Dwight (Iowa Hawkeyes and Atlanta Falcons)
Tavian Banks (Iowa Hawkeyes and Jacksonville Jaguars)
Acie Earl (Iowa Hawkeyes and Boston Celtics)
....And of course Dwyer, Michaels, and Goose.
Scoutmaster Girskis led the charge and got some cool behind the scenes pics.

In the end, Jake Gervase took home the win, with Pat Angerer in 2nd and Tim Dwight bringing in third. Some were gracious in defeat while others may have been a little upset.
Check out the full competition below:
Oh, BTW, we're still polling for the Best In Show award. Winner will be awarded on Tuesdays show.
Thanks to everyone who helped make this possible.
Enter your number to get our free mobile app
The QC Favorite Movies. Of All Time