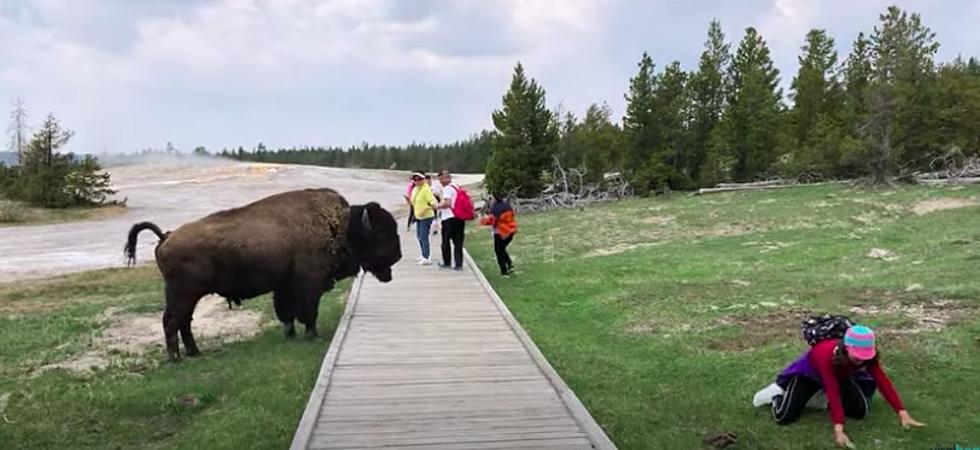 Tourists Shamed For Trying To Touch And Take Selfies With Bison
touronsofyellowstone
A viral video shows tourists attempting to pat and take selfies with bison at a US national park, sparking outrage as many have labeled these acts as "insane."
Angry Bison
One clip, shared by TouronsOfYellowstone on May 22 and credited to Russ Bjorn on Instagram, shows a woman trying to touch a bison while a friend takes pictures. However, the wild animal, who was eating at the time, instantly reacts and charges at the woman, causing her to flinch, run away, and fall to the ground as her companions scream in terror.
Yellowstone National Park
The footage was taken at Yellowstone National Park — an American national park located in the western United States
Meanwhile, another video of a woman inches away from a resting bison at Biscuit Basin in the national park has also gone viral.
"She was trying to pat it. It was insane. Like inches," TouronsOfYellowston captioned the clip that was credited to Helloquan.
"Her arrogance was so infuriating. People were telling her to move away and she kept posing for like 10 minutes."
Angry People
Although she managed to escape unharmed, the reckless behavior of the tourists who endangered her with the wild beast has caused outrage and condemnation.
"People should be arrested for this, ignorance like this is why people continue to get hurt," one person commented.
"She's lucky they didn't have a calf with them," another wrote.
A third person added: "All for the selfie. Self-absorbed entitled ignorance. Our future, ugh."
The Instagram page of the national park has recently shared three consecutive videos showing tourists attempting to take selfies with bison, and the caption mentioned that it won't be long before someone gets hurt.
The NPS, a government agency responsible for the national parks, cautions visitors to keep a safe distance of 25 yards from the bison. Approaching them can endanger their lives and result in a response such as bluff charging, head bobbing, pawing, bellowing, or snorting.
"These are warning signs that you are too close and that a charge is imminent," it states on its website.
"The animals in Yellowstone are wild and unpredictable, no matter how calm they appear to be. The safest (and often best) view of wildlife is from inside a car."
It also warns that bison have injured more people in Yellowstone than any other animal.
"Give bison space when they are near a campsite, trail, boardwalk, parking lot, or in a developed area," it continued.
"If need be, turn around and go the other way to avoid interacting with a wild animal in close proximity."
According to the NPS, the most significant bison herd in the US is safeguarded in Yellowstone National Park. It is the singular place where the endangered animal has lived nonstop since prehistoric eras. The park nurtures a sizable bison populace of 2,300 to 5,500. In the summer of 2022, the bison tally was estimated to be around 5,900.