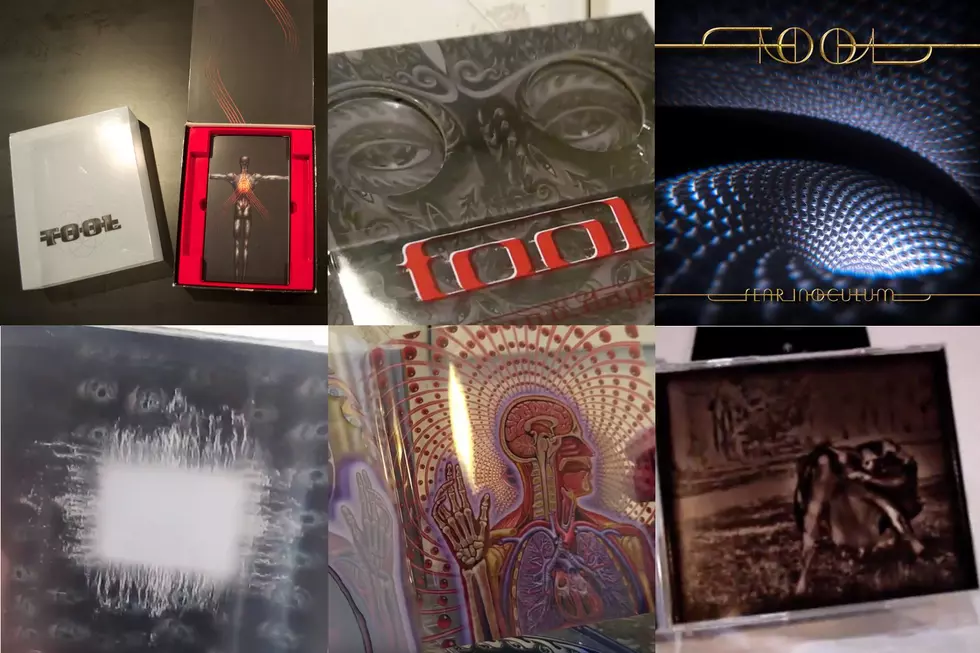 A History of Tool's Elaborate Album Packaging
Youtube / Tool Dissectional / Volcano / RCA
Tool's long-delayed 2019 album, Fear Inoculum, features another in the band's long line of boundary pushing when it comes to LP packaging.
A special, limited-edition CD version of their fifth album features "a 4" HD rechargeable screen with exclusive video footage, charging cable, two-watt speaker, a 36-page booklet and a digital download card." It should come as no surprise that the group put such effort into creating a distinctive physical product. Beyond their impressive catalog of music, Tool have made a name for themselves thanks to innovative choices for their album artwork and packaging.
Much of the credit goes to the group's guitarist, Adam Jones. The musician is also a visual artist and special-effects designer. In addition to his many contributions to Tool properties -- packaging, music videos, onstage visuals -- Jones has created effects for feature films, drawn comic books and published photography.
Jones has been nominated twice for a Best Recording Package Grammy Award, winning in 2006 for Tool's album 10,000 Days. That LP memorably featured stereoscopic glasses built into the packaging, allowing the album's artwork to be viewed in 3D.
"We always try to think of something that's never been done before, you know, as far as album packaging," Jones admitted to Launch radio networks at the time of 10,000 Days' release. "We thought if we could get this to work with our budget and put this out, it'd be really unique and reflecting a lot of the artwork that I appreciate from the '70s."
See Tool's 'Undertow' Hidden Artwork 
Creating a one-of-a-kind physical accompaniment to his band's music is significant to Jones. "I think it's really important that you work as hard as you can on something," the musician explained to the Associated Press in 2006. "You have to do that nowadays because everything's, like, you can just download it off the internet or you can just get it from your friend and tape it. I'd rather always be about giving people more than their money's worth."
See Tool's 'Aenima' Lenticular 3D in Action
The guitarist has regularly collaborated with other artists in creating unique packaging for the band.
Chief among them is Alex Grey. The artist first worked with Tool for their 2001 album, Lateralus. "I never heard the music. So I didn't really know what to base anything on," Grey admitted in an interview with Metal Injection.
See Tool's 'Lateralus' CD Packaging
Jones initially approached the artist at an exhibition in Santa Monica and presented the idea of a booklet with artwork printed on clear plastic pages. Grey was intrigued by the concept of layering the visuals and eventually created a series of psychedelic and spiritual images.
"The idea of getting the hand involved brought it to this level of a universal blessing," Grey said. "And then, just seeing Maynard's voice as an important part, and an essential part of the record. I was starting to layer things symbolically that would have resonance for each of the members."
See Tool's '10,000 Days' CD Packaging
Since that initial collaboration, Grey has contributed to two more Tool albums. "To me, they represent artistry," he said of the band. "Their sound is so recognizable and unique, and has inspired waves of people that aspire to that vibe."
There's a more detailed breakdown of Tool's innovative album packaging choices from throughout their career below.