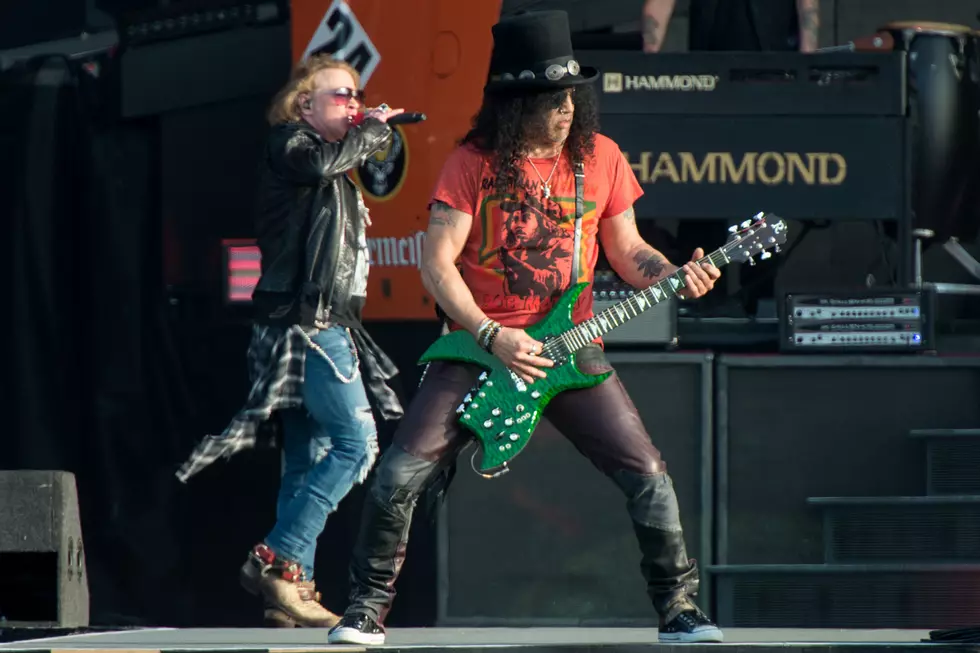 Slash Enjoys Playing Guns N' Roses' 'Chinese Democracy' Songs
Ollie Millington, Getty Images
Guns N' Roses guitarist Slash explained his approach to playing songs from the 2008 album Chinese Democracy, which was recorded and released while he was out of the band. The set list of their Not in This Lifetime tour has included eight of that LP's 14 tracks, with the title number, "Better" and "This I Love" having been played most.
"It was cool," Slash told Eddie Trunk in a wide-ranging interview. "There's some great songs on that record, so I just sort of adapted my own way of playing them and just made them more my own so I felt more comfortable. And they just kick ass." He described frontman Axl Rose as having been "amazing" at "every single show," adding that it was "really cool" to watch the singer deliver performances up to three and a half hours long. He also hailed guitarist Richard Fortus and drummer Frank Ferrer, who'd joined during his absence. "All in all, it was just a great gang of people who were really excited about doing what we're doing, and going out there and playing in front of a bunch of people who are glad we're doing it," he said.
Slash quit GnR in 1996 and didn't take the stage with Rose until they'd resolved their personal differences 20 years later. Asked how it felt to be working together again, the guitarist said: "I'm with a guy who was a partner in crime with me for many years before we had this, sort of, falling-out thing. … And we were up there playing these gigs. And I know these guys, I know these songs, but something about it was not really reminiscent of, say, the Use Your Illusion tour [of the early '90s]. So it felt really fresh and new. It's an interesting thing. It didn't hit those tiny moments of, like, 'Oh my God! I remember hitting this chord, and he was there back in 1991,' or anything like that."
In the same interview, Slash echoed Rose's sentiments about the chances of new music from the band, and revealed they'd only initially planned to play five reunion shows.
Every Guns N' Roses Song Ranked