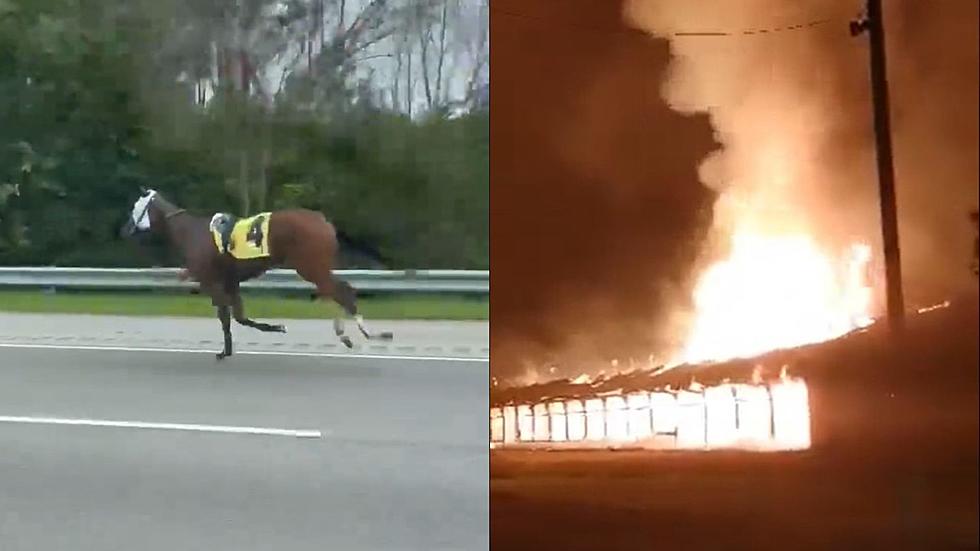 Racehorse Bucked Jockey, Broke Out of Track, Got Caught, Survived Stable Fire
Blake Sandlin via Twitter / Jake
Ellis Park is a horse racing track and gaming center on the Kentucky-Indiana border, and one horse has given them a hell of a PR issue this weekend.
On Saturday, a 2-year-old horse named Bold and Bossy decided she wasn't going to be running in the race today, or ever. She bucked her jockey, ran through the barn area and levee before she hopped a fence and was caught on video running down the interstate.
Bold and Bossy was caught and brought back to the stables.
That night, the track's stable that Bold and Bossy was staying in caught fire, and was fully involved by the time fire officials arrived. Bold and Bossy and the rest of the horses in the stable were able to escape with the help of an unknown good Samaritan.
Fire officials believe the fire was "electrical in nature," with no criminal intent involved suspected.
Bold and Bossy was treated for some minor burns, but nothing major, and she's expected to make a full recovery.
LOOK: Here is the richest town in each state
Just saying the names of these towns immediately conjures up images of grand mansions, luxury cars, and ritzy restaurants. Read on to see which town in your home state took the title of the richest location and which place had the highest median income in the country. Who knows—your hometown might even be on this list.