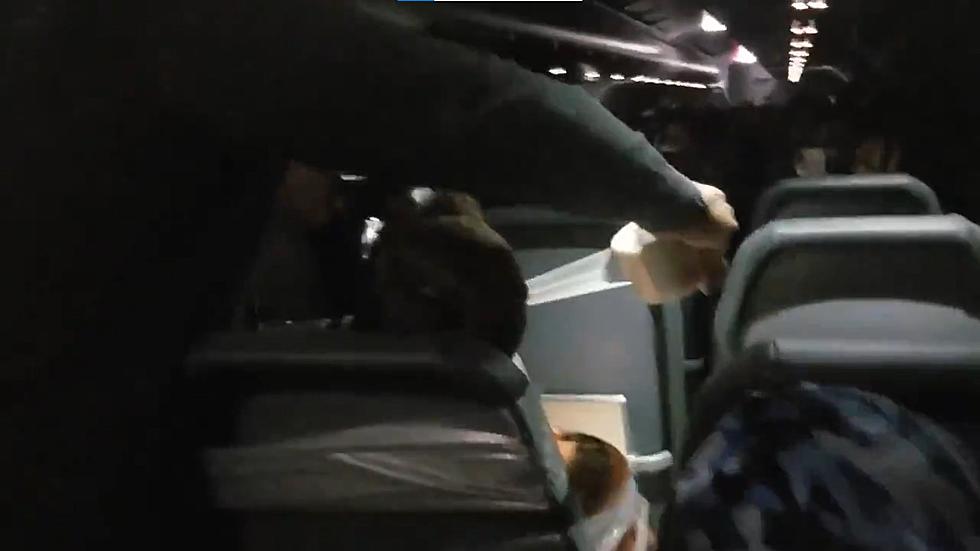 Passenger That Groped, Punched Flight Attendants Taped To Seat
Sam Sweeney via Twitter
An Ohio man ended up taped to his seat by other passengers on a Frontier Flight after allegedly assaulting and groping flight attendants mid-flight.
Maxwell Berry, 22, was arrested when the plane landed and could face three battery charges in the case.
Video from the incident was instantly viral after it was shared. He can be heard yelling "My parents are worth $2,000,000."
Berry was on the flight from Philadelphia to Miami on July 31st, according to the Miami-Dade Police Department.
According to the police report, Berry ordered three alcoholic beverages from a flight attendant before brushing the empty cup along her backside.
Then, when he got a new drink, he spilled it. When he returned from cleaning himself up in the bathroom, he wasn't wearing a shirt. An attendant helped him retrieve a new shirt from his carry-on.
He then allegedly proceeded to walk down the plane and grope a second flight attendant's breasts before placing his arms around two attendants and grabbing their breasts.
Once a third flight attendant took over the monitoring of Berry, he punched that attendant in the face, starting a fight.
Nearby passengers restrained Berry before taping him to his seat.
Frontier Airlines issued a statement on the incident:
During a flight from Philadelphia to Miami on July 31, a passenger made inappropriate physical contact with two flight attendants and subsequently physically assaulted another flight attendant. As a result, the passenger needed to be restrained until the flight landed in Miami and law enforcement arrived. Frontier Airlines maintains the utmost value, respect, concern and support for all of our flight attendants, including those who were assaulted on this flight. We are supporting the needs of these team members and are working with law enforcement to fully support the prosecution of the passenger involved. The inflight crew members' current paid leave status is in line with an event of this nature pending an investigation.
LOOK: Here is the richest town in each state
Just saying the names of these towns immediately conjures up images of grand mansions, luxury cars, and ritzy restaurants. Read on to see which town in your home state took the title of the richest location and which place had the highest median income in the country. Who knows—your hometown might even be on this list.