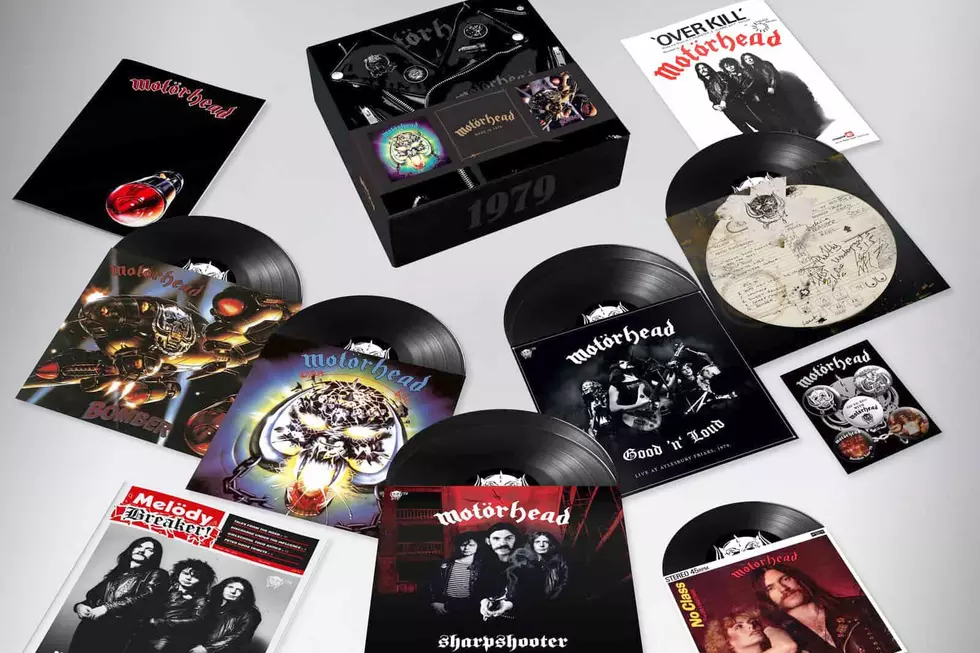 Motorhead Announce 'Overkill' and 'Bomber' Box Set and Reissues
BMG
Motorhead have announced the launch of an "exciting, extensive and detailed" reissue campaign, starting with the band's 1979 albums Overkill and Bomber.
Each LP will be available in expanded, deluxe hardback book CD and vinyl formats, while a box set titled 1979 will bring both together.
They're being released on Oct. 25. You can see its full contents below.
The campaign started with the arrival of an unreleased live version of "Bomber," featuring the late, classic lineup of Lemmy Kilmister, "Fast" Eddie Clarke and Philthy "Animal" Taylor. You can watch the video below.
"After several years of planning, Motorhead and BMG are delighted to announce the start of an exciting, extensive and detailed ultra-fan-friendly release program spanning the band's career from the '70s, '80s, '90s and beyond," the label said in a statement.
"The releases feature previously unheard concerts from the '79 tours, interviews and many unseen photos. … All three of these releases have been created with the full cooperation and involvement of the estates of Ian 'Lemmy' Kilmister, 'Fast' Eddie Clarke and Phil 'Philthy Animal' Taylor."
The packages were developed with the help of "key people, crew and accomplices" along with "super fans," BMG said. "It was always Lemmy's demand to give the fans the very best possible in every respect. We believe we have achieved that with these reissues."
Motorhead. '1979' Box Set Listing
Overkill album
Bomber album
Good N'Loud double LP – Live at Friars, Aylesbury, U.K., March 31, 1979
Sharpshooter double LP – Live At la Rotunde, Le Mans, France, November 3, 1979
40-page period-accurate 'music magazine'
The Rest of '79 Vinyl – B-sides, outtakes and rare tracks
"No Class" 7" single with gatefold art
Bomber tour programme
Overkill sheet music book
Badge set
Cased in black biker jacket box
Lemmy's 30 Most Historic Moments