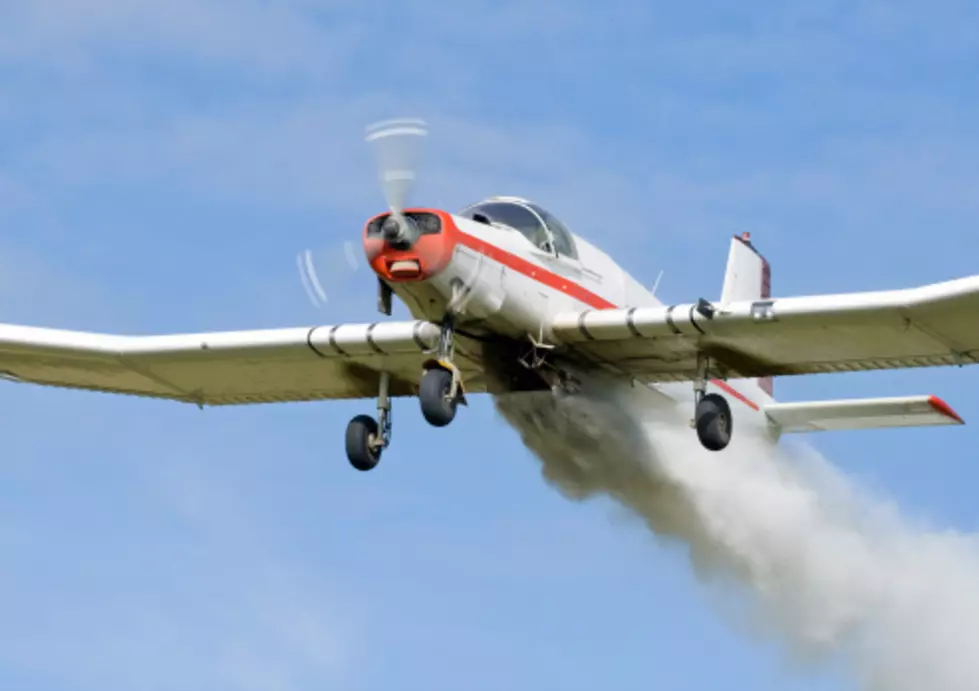 Angry Missouri Man Shoots Crop Dusting Plane For Flying Too Close To House
Getty Images/iStockphoto
A Missouri man is accused of attempted murder after shooting a midair crop duster airplane with a high-powered rifle. The reason?  The man thought the plane was flying too low near his property and he "wanted him to stop."
The 62-year-old Missouri man identified as Donald V. Bates Jr. was charged by the Caldwell County Court on Friday with second-degree attempted murder, unlawful weapon use, first-degree assault, felony property damage, and armed criminal action.
The initial shooting of the plane happened on July 10th. The plane was flying over farmland on the outskirts of Kidder, a small town 70 miles northeast of Kansas City.
When the crop dusting plane landed, police were called to investigate a report of a small plane struck by gunfire.
The pilot was an employee of Hunter Flying Services. He told police he had been assigned to spray crops near Caldwell Road and Oak Drive. During his flying time, the pilot heard a loud popping sound, to which he thought he had collided with something in the air. When the pilot landed the plane at Lexington Municipal Airport he inspected the plane and found the fuel tank punctured by a bullet, causing a fuel leak, and another bullet hole in the nose of the plane.
Investigators surveyed the damage and collected bullet fragments. According to court papers, the estimated damage of the plane is roughly $12,000 along with $25,000 in lost wages because of the time needed to make repairs.
Witnesses told police that during the time the plane was flying they heard gunshots coming from Bates, as many as 15 rounds fired.
This is not the first time Bates has been accused of shooting at a plane. Two months before this incident another pilot reported seeing Bates wave a gun around as the pilot flew roughly 100 feet overhead.
When police interviewed Bates during the earlier case, Bates admitted to carrying a shotgun that day but denied pointing the gun at the pilot. He said he confronted the pilot by raising his arms and putting up his middle finger at the pilot. Bates said he thought the plane was flying too low near his property and he "wanted him to stop," according to court papers.
Bates was charged with brandishing a firearm, and when his property was searched investigators allegedly found several long guns along with ammunition capable of penetrating an aircraft, court papers say.
Read More Here: Kansas City
The Bix 7 Coming Back
Now we get to see those we may have missed in the big crowds at the start as the groups start to shrink in the second half. Shout out to those who led the run!