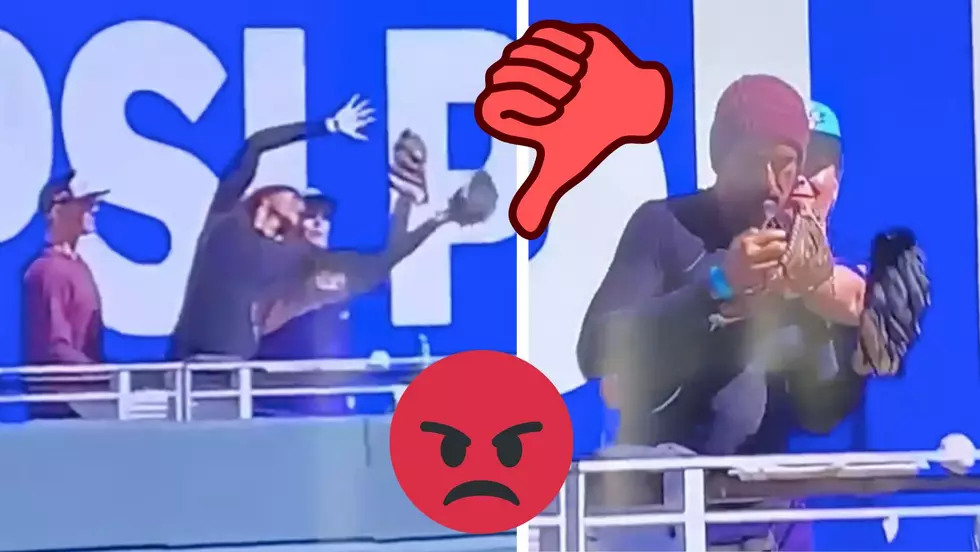 Man Rudely Stole Home Run Ball Out Of Teenagers Glove At Royals Game
Kansas City Royals
Just when you thought baseball was the sport that brought people together, this guy ruins the experience and steals a home run ball from a kid.
Bruce Williams was celebrating his 18th birthday at the Royals game on Sunday. His father got him two tickets to the game against the Padres at Kauffman Stadium in Kansas City.
Williams and his cousin Luke made a two-hour drive from Stockton Missouri to see the game, they were excited about the seats they got.
"It was my first time ever sitting at the Pepsi Porch and I saw we're playing the Padres. Because of how interesting the Royals pitching has been these days, I was like, '(San Diego outfielder) Juan Soto is gonna put one out on the party porch, so I better bring my mitt,'" Williams recalled.
The Royals were winning 15-7 by the 7th inning. This is when some jerk-face man in a beanie did something dumb.
https://twitter.com/BillSpiegel/status/1563994818556166145?ref_src=twsrc%5Etfw%7Ctwcamp%5Etweetembed%7Ctwterm%5E1563994818556166145%7Ctwgr%5E98a11a8217d105482d9316deb6b280e08b0cd1e2%7Ctwcon%5Es1_&ref_url=https%3A%2F%2Fwww.kansascity.com%2Fsports%2Fspt-columns-blogs%2Ffor-petes-sake%2Farticle265054199.html
"I was like, Man, I wouldn't even be mad if Juan Soto hit a dinger as long as it went to me because we're up by so much," Williams said. "And then a couple of pitches later, he just cracked it right out there. I saw it coming to me and so I put my glove on real quick and I stood up in my seat. Like it was right at me. And then all of sudden, someone was just plowing over me. He was bumping into me pushed me to the side trying to get the ball and I reached over him and snagged it right out of the air."
Williams was excited about his catch, but then quickly became irritated when a rude man in a red beenie took the ball right out of his glove.
There was an awkward pause as the man and the teen stared at each other. The teen was in shock as the man snatched the ball from his glove and then scampered away.
The man later came back trying to offer the kid Sam Gaviglio jerseys.
"No, I don't want your shirts,' Williams said. "Give me the ball."
The man said, "No, I'm not going to" before dropping the jerseys and leaving the stadium.
The Royals identified the man who took the ball as , who is known for pulling planes and cars in an online series called "Man vs. Impossible."
"At this time we are not banning Mark Kirsch from the stadium," Sharita Hutton, Senior Director of Communications wrote in the email to The Star.
Although Williams had a bad experience, he did get a happy ending. A security guard who witnessed the theft approached Williams.
"I just kind of complained to him about what just happened to me," Williams said. "And then about 10 or 15 minutes later then, they got someone from guest services down there and he brought me a bag full of bobbleheads and a Bobby Witt signed baseball."
https://twitter.com/RoyalsAssist/status/1564334306092277764
A guest service worker asked Williams and his cousin to stick around until the end of the game.
"We waited around and sure enough, he came walking back," Williams said, "and he had a ball signed by Juan Soto with some of his achievements written down on the ball and on the other side of that, 'sorry about that.' "It turned a pretty bad experience into a very good one."
Later when Williams tweeted about his experience, the Royals Guest Service account replied "An unfortunate situation that we didn't take lightly. Happy to turn your experience around for you! Happy birthday!"
Read more here: Kansas City
The Best Places To Watch Iowa Football Games
We have gathered 15 places around the Quad Cities where people LOVE to watch Iowa Football games. Many bars with owners that are Hawkeye fans have specials on game days. Cheaper beer, special dishes, and even free shots when Iowa scores a touchdown.
We asked listeners where their favorite place to watch Iowa football was, and here is what they suggested.