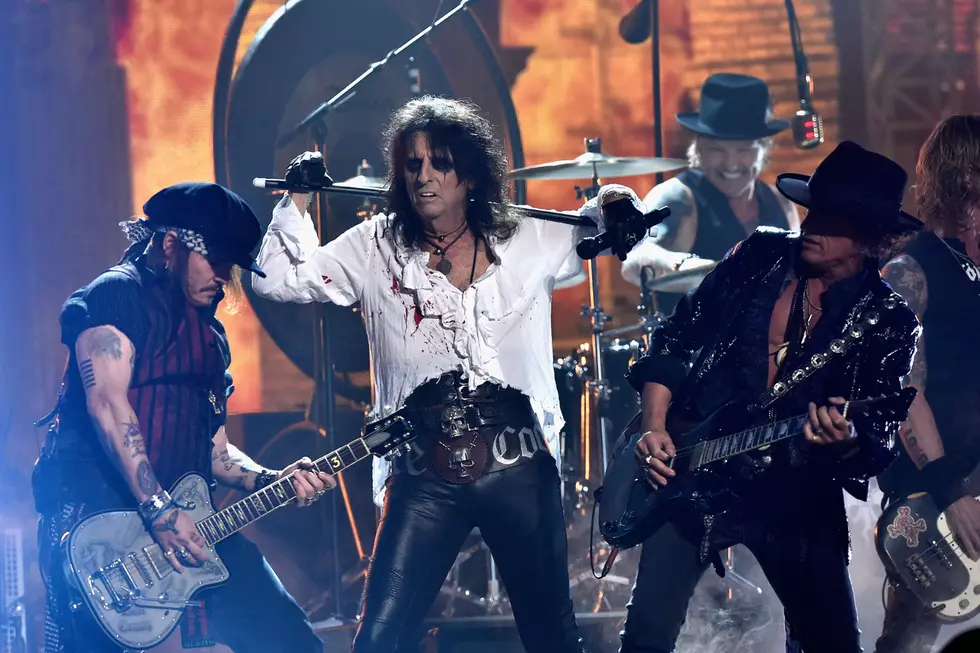 Hear Hollywood Vampires' New Song 'Who's Laughing Now'
Kevork Djansezian, Getty Images
The song's premiere comes as the band prepares for a series of May performance dates throughout the western U.S.
"Who's Laughing Now" is powered by a heavy, driving bass line, as Cooper growls lyrics that criticize "the East elite" and "clergy sleaze" (among others). It's the first taste from the group's forthcoming album, Rise, due on June 21.
Unlike their 2015 debut album, which was made up almost entirely of cover songs, Hollywood Vampires' new release will reportedly feature predominantly more original material.
You can listen to the new song below.
During an exclusive conversation with UCR, Cooper explained his role on the new album. "The funny thing is, I'm not doing any writing on it," the Hall of Fame rocker admitted. "Johnny Depp, Joe Perry [and] Tommy Henriksen have written almost 90 percent of it. I come in and do a little surgery on the lyrics. But it's interesting for me to be singing about Johnny's angst."
When asked to describe Depp's songwriting, Cooper claimed there was "a lot of venom in his lyrics." "Almost everything I read about Johnny Depp was absolutely untrue," the singer professed, alluding to rumors about the actor's financial and physical health. "Just the opposite of what you're reading is what was going on. But on this album, he wrote a lot of the lyrics – and I got to sing them – so I'm the one delivering the venom."
Alice Cooper Albums Ranked