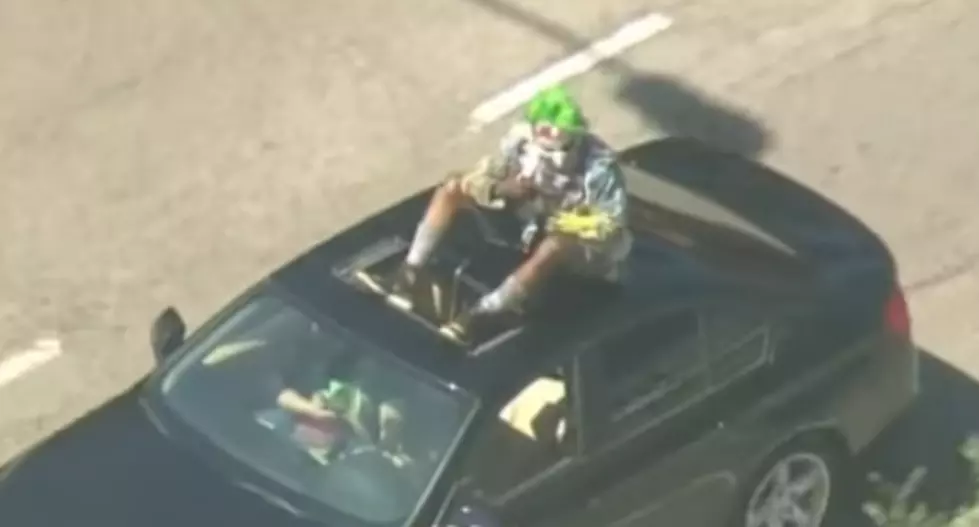 Driver In Clown Mask and Prop Chainsaw Leads Police On Chase
CBS Los Angeles via YouTube
A man is in custody after what police are describing as a bizarre incident that led to a police chase that ended on a California beach.
The incident began on Saturday afternoon after witnesses called the California Highway Patrol to report a black BMW driving about 2-3 mph in the fast lane of the Northbound 405 freeway the CHP said in a written statement.
Officers quickly caught up to the BMW and found a man who "was reportedly sitting on top of the vehicle holding a chainsaw." Video footage showed the man was wearing a clown mask and green wig. The driver then fled and headed towards Venice Beach.

It was during this time that the driver climbed onto the rood of the BMW and began gesturing to the CHP units. The chase ended when the driver came to a dead end at the beach. It was at this point that he got out of his vehicle and tried to mingle among the beach-goers, but his green wig and clown mask really made him stick out.
Police surrounded the man and took him into custody with a crowd of people cheering. Damik A Disdier (36) was charged with felony evading police. A search of the car revealed that the chainsaw was a toy prop. Disdier's bail was set at $75,000 pending his initial court appearance.