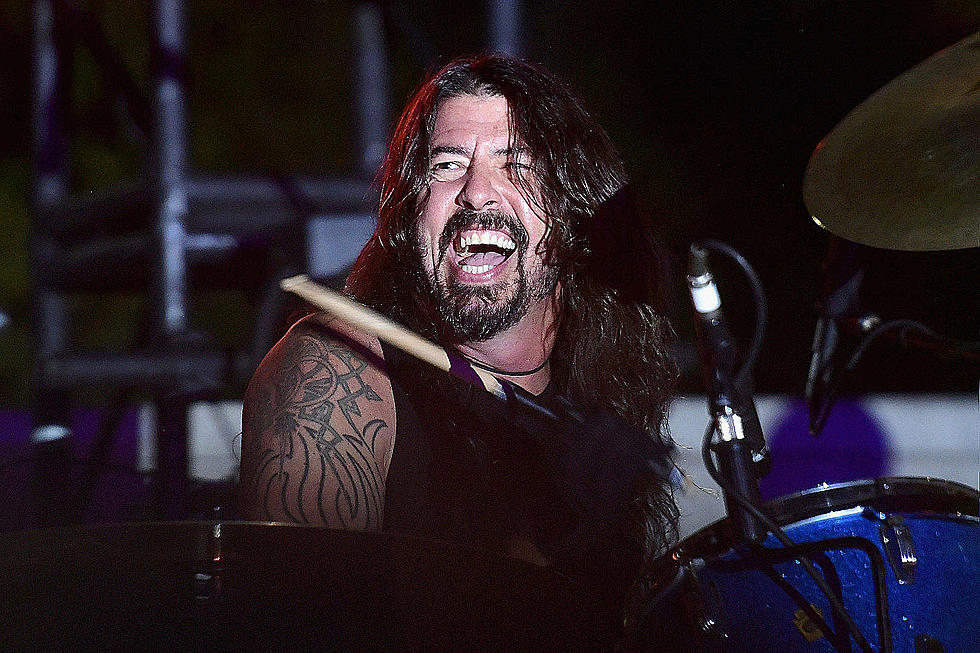 Dave Grohl Spent 16 Hours Cooking BBQ for Homeless Shelter
Matt Winkelmeyer, Getty Images
Good guy Grohl strikes again. Foo Fighters frontman and Backbeat BBQ honcho Dave Grohl spent some serious time smoking BBQ last week, all to help feed the homeless at the Hope of the Valley rescue mission in Los Angeles.
According to TMZ, Grohl showed up at the Hope Mission around midnight on Wednesday with his massive meat smoker and then proceeded to spend the next 16 hours delivering a feast of ribs, pork butt, brisket, cabbage, cole slaw and beans. It took approximately 14 hours to cook the meat, with another two hours to let it rest. And speaking of rest, Grohl caught a few moments of sleep in the overnight hours in the parking lot while awaiting the meat to smoke. A photo gallery can be seen via TMZ.
This gesture came as major storms were about to hit the SoCal coast. Once the food was done, Grohl spoke with Mission staffers as well as the guests currently living at the shelter. In total, his feast fead around 450 guests and 50 staffers.
Hope of the Valley CEO Rowan Vansleve shared video taken with Grohl as part of the "350 mile run" mission between Las Vegas and Los Angeles focusing on homelessness. In it, Grohl spoke of being "all in" in the mission, while Vansleve commented on the post, "In the middle of the storms this week. This is Dave Grohl cooking over 500 servings of the best barbecue for those living in our shelters. That's class."
This is not the first time Grohl has fired up with cooker to help out in the community. Back in 2018, the Foo Fighters frontman fed firefighters at Fire Station 68 in Calabasas in the midst of their fight with the massive California wildfires that were ongoing at the time. And, in 2021, in the midst of the pandemic, Grohl teamed with local San Fernando Valley eatery Casa Vega to create the Foo Fighters Especial combo plate that would help raise funds for No Us Without You L.A. providing food security for undocumented back of house staff and their families.
Though Grohl put in some serious grill time, he will soon be back to his regular gig fronting the Foo Fighters. The band just added new headlining dates to their 2023 touring. See all their stops listed here and get your tickets at this location.
Your Guide to Rock + Metal Bands Touring in 2023
Check out over 175 rock and metal bands' touring schedules for 2023.