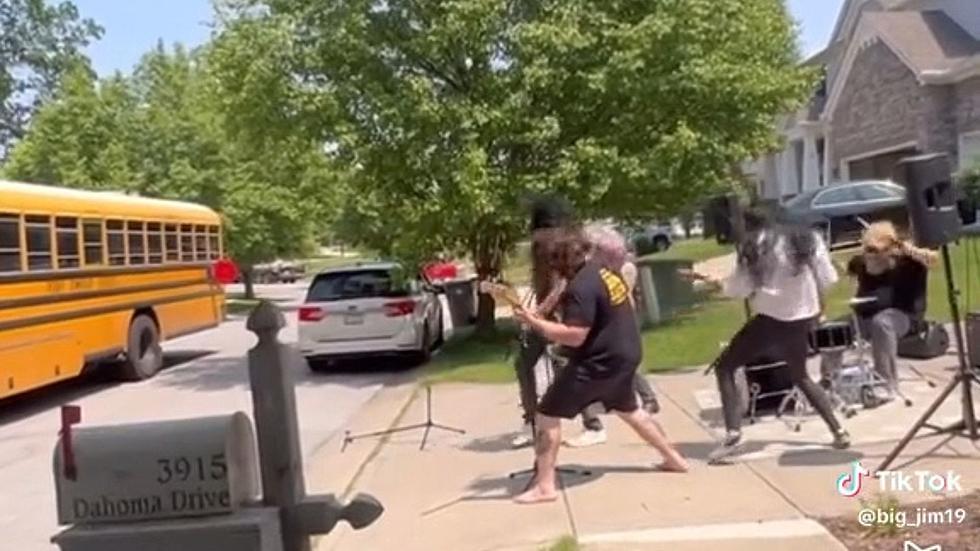 Band of Dads Greets Kids With Driveway Performance of 'Schools Out'
big_jim19 via TikTok
The school year is coming to a close, and most of us will be playing Alice Cooper's School's Out for our kids at least once while simultaneously playing air guitar and screaming about how "This is real music." One group of dads in Indiana took it a step further for one kid's last day of school for the summer.
Matt Wilson and his band, Union Suit Rally, were set up and waiting in the driveway of Matt's Indiana home waiting for his son, Liam, to arrive on his school bus.
Trying to find some way to embarrass his son on the last day of school every year, this one could take the cake if it wasn't so cool.
"The year before, I wore some Speedos and I was running down the street in some flippers and a snorkel mask, you know, run into the bus to pick him up," Wilson told WTHR. "So that was particularly fun, and I think that's the most embarrassed I think he's ever been, seeing his dad in Speedos."
Matt and Union Suit Rally gave a 'live' performance of School's Out, dressed fully in era-accurate costume. Matt even wore eyeliner and dressed as a young Cooper.
Liam told WTHR he isn't even embarrassed anymore.
Some other kids around the internet are celebrating their last day of school in style that's taken them viral.
One kid arrived from the last day of school on his bus, and immediately ripped into the best Stone Cold Steve Austin impression you've heard from anyone, let alone a 3-4th grade child.
He even finishes it off with the iconic beer shower, but with milk.
Read more at WTHR
WOOF: These are the most popular dog breeds in America