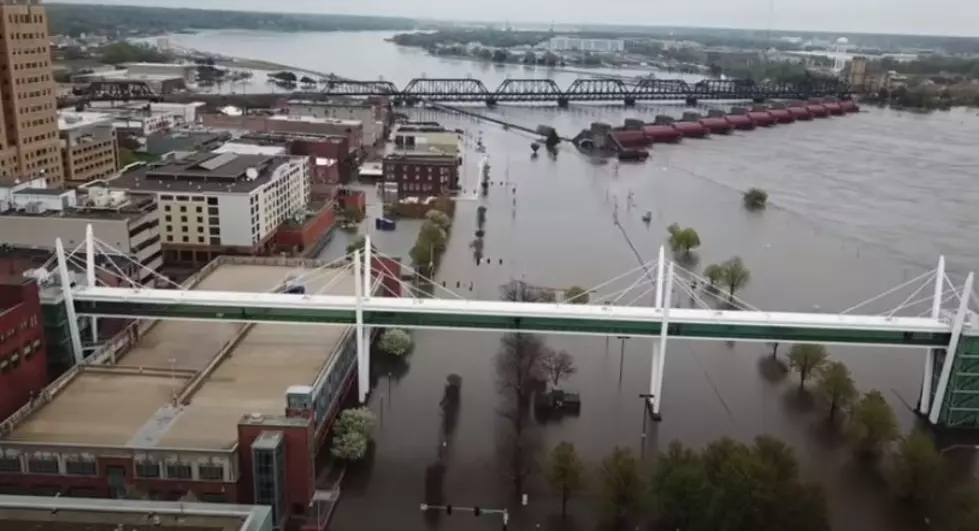 1 Year Ago Today: The Davenport HESCO Barrier Failure
QC Drone via YouTube
It's hard to believe that it's been a year since the HESCO barriers broke in Davenport, leaving much of downtown Davenport flooded.
Most times looking at events retrospectively time seems to be very short, but with the events towards the end of 2019 and the beginning of this year it seems like so long ago to me.
When the barriers broke it devastated many businesses in Davenport that still have not fully recovered to this day. In a matter of a little over a minute, water went from being blocked on River Drive, to flooding businesses full of people as far as 3rd Street and Iowa. Those who lived in the Peterson Paper Lofts had to be rescued by boat because of the sweeping water.

Those stores that couldn't rebuild had two options: move, or close. Some moved blocks away, like Abernathy's, or Streets of Italy. Some unfortunately are no longer with us, like Great River Brewery.
While it was a day of devastation, it was also one of the many instances of  Davenport's people coming together to save the day. If you were downtown, you saw passerby, people on their way home from work, in their work clothes, jumping in to pull inventory out of stores before the waters rose too high.
It's hard to believe it's only been a year.
Enter your number to get our free mobile app