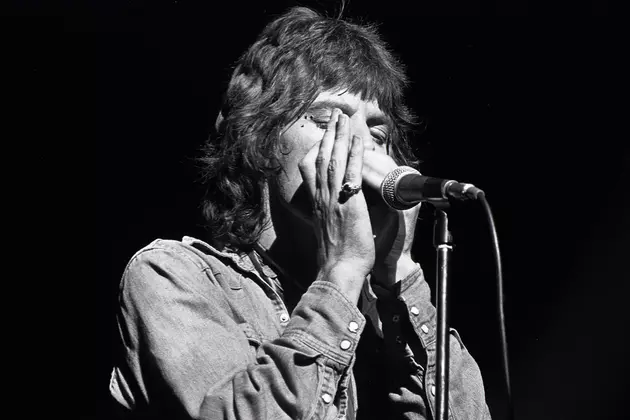 Top 10 Rolling Stones Blues Songs
Robert Knight Archive, Getty Images
Richards has described listening to Muddy Waters for the first time as "the most powerful music I had ever heard – the most expressive." Jagger, meanwhile, once said this music "seemed the most real thing" to his young ears.
Co-founders Brian Jones and Charlie Watts were soon delving just as deeply into the music of Muddy Waters, Jimmy Reed, Little Walter and others. Inevitably, their mutual interest bled over into the Rolling Stones' recorded output, both in the form of cover tunes and then blues-influenced originals.
If there had been any initial push back to the idea of a group of U.K. kids taking on this tradition, the sentiment had long-since changed by the time they'd created stone-cold classics like 1968's "No Expectations," 1969's "Midnight Rambler" and 1972's "Stop Breaking Down." But even their earliest stabs at the genre, including embryonic takes on the music of Waters, Robert Johnson and Fred McDowell, found the Rolling Stones adding their own unique sensibility to the proceedings.
Richards came to appreciate this remarkable journey, traced again through our list of Top 10 Rolling Stones Blues Songs. "When you think of some dopey, spotty 17-year old from Dartford who wants to be Muddy Waters – and there were a lot of us – in a way, very pathetic," he once admitted, "but in another way, very heartwarming."
10

"Ride 'Em On Down"

From: 'Blue and Lonesome' (2016)

If you tore the Stones' music all the way down, the blues would represent their sturdy foundation. So, 2016's throwback 'Blue and Lonesome' boasted an integrity that's implicitly lacking when their contemporaries make the odd turn toward country or mid-century pop. Songs like this scorcher – most famous as a 1955 single from Eddie Taylor, "Ride 'Em On Down" was originally recorded in the '30s as "Shake 'Em On Down" by Delta blues legend Bukka White – were also a smart way to grow into their elder statesmanship.

9

"You Gotta Move"

From: 'Sticky Fingers' (1971)

A traditional African-American spiritual, this song probably made its way to the Rolling Stones' ears via a 1965-era blues reworking by Mississippi Fred McDowell, who presented "You Gotta Move" in an arrangement that directly recalls the old standard "Sitting on Top of the World." In fact, the slide on the Stones' version, recorded in 1969 at Muscle Shoals in Alabama, mirrors McDowell's take almost perfectly. Elsewhere, the Sticky Fingers liner notes also credit McDowell as the composer – along with the Rev. Gary Davis, an earlier interpreter who helped give it a dark new menace. But the soul-lifting, endlessly upbeat source material, as recorded by acts like Sister Rosetta Tharpe and the Blind Boys of Alabama, couldn't be more different.

8

"I Can't Be Satisfied"

From: 'The Rolling Stones No. 2' (1965)

Powered along by a remarkably confident Jagger, the Rolling Stones added rippled new muscle to a 1948 song that originally found Muddy Waters melding Delta and Chicago blues styles alongside bassist Big Crawford. Weirdly, nobody in America knew. The Stones' take on "I Can't Be Satisfied' appeared in the U.K. on their 1965 sophomore release, but for reasons not entirely clear didn't finally make it stateside until the last side of 1972's More Hot Rocks (Big Hits and Fazed Cookies), a cash-grab collection of odds and ends from their old label. Very unsatisfying, right? Well, better late than never.

7

"Love in Vain"

From: 'Let It Bleed' (1969)

The Stones often filtered their traditional blues through a rock 'n' roll filter. But their take on Robert Johnson's despondent love song sticks pretty much close to the source this time. Stripped down and as bleak as Johnson's original version (recorded during his final session in 1937), the Stones' "Love in Vain" is a perfect fit with the end-of-the-'60s apocalyptic tone of their classic Let It Bleed album.

6

"No Expectations"

From: 'Beggars Banquet' (1968)

This desperately lonesome song marked a huge passage: Brian Jones' memorable turn on the acoustic slide here was among his last major contributions with the Rolling Stones. Nicky Hopkins is again the ace in the hole on "No Expectations," but it's hard at times to focus on anything other than the quickly fading Jones. The Stones debuted this track during their long-shelved Rock and Roll Circus live project, which turned out to be Jones' last on-stage appearance with the group he co-founded. Mick Taylor took over for their famous 1969 appearance at Hyde Park, in a show that became a memorial for Jones after he died just two days before. It was the perfect goodbye.

5

"I Just Want to Make Love to You"

From: 'The Rolling Stones' (1964)

Willie Dixon's blues perennial was first recorded by Muddy Waters in 1954, and the Stones covered it on their debut album a decade later. It pretty much serves as an introduction to the band's approach to the blues: more guitar, more menace and more rock 'n' roll. Still, in their formative years the Stones were mostly faithful, and this frenzied cover of "I Just Want to Make Love to You" remains an early highlight.

4

"Ventilator Blues"

From: 'Exile on Main St.' (1972)

Featuring a rare co-writing credit for guitarist Mick Taylor, this strikingly malevolent blues was (ironically enough) actually recorded in a poorly ventilated space: the basement of Keith Richards' villa in France. Taylor's work gives "Ventilator Blues" a distinctive feel, as does a rare double-tracked vocal from Mick Jagger. But the song's strange rhythm signature, created by saxophonist Bobby Keys and then clapped out for drummer Charlie Watts, has made the song nearly impossible to replicate to any of the Stones' satisfaction on stage. Nicky Hopkins made things complete on the studio version with an intricate, Chess Records-inspired turn at the piano.

3

"Little Red Rooster"

From: 1964 Single

Brian Jones was the Stones' blues kingpin early on, and on this 1964 cover of Willie Dixon's "Little Red Rooster" (made famous by blues great Howlin' Wolf in 1961) he checks in with one of his all-time greatest performances. His slide playing is nothing short of phenomenal, and the band's slow-burning intensity came naturally: Reportedly, it was recorded at Chicago's Chess Studios, home of the original version.

2

"Stop Breaking Down"

From: 'Exile on Main St.' (1972)

Keith Richards first heard this song from the doomed bluesman Robert Johnson while hanging out at Brian Jones' crash pad, adorned with not much more than a chair, a few records and a turntable. The Stones version filled out Johnson's original bare-bones arrangement, adding serpentine slide work from Mick Taylor and a nasty turn on the harmonica from Mick Jagger. But Richards never got over hearing Johnson's version. "It took my a long time to realize he was actually doing it all himself," Richards marveled. "The guitar playing, it was almost listening to Bach. ... You want to know how good the blues can get? Well, this is it."

1

"Midnight Rambler"

From: 'Let It Bleed' (1969)

"Midnight Rambler," written by Jagger and Richards, was originally recorded for 1969's Let It Bleed. But the definitive version may be the live take on the following year's Get Yer Ya-Ya's Out! Either way, the song captures so much about the era: the menace, the hopelessness, the dread around every single corner. It's as close to genuine blues the Rolling Stones ever got. It's that good.