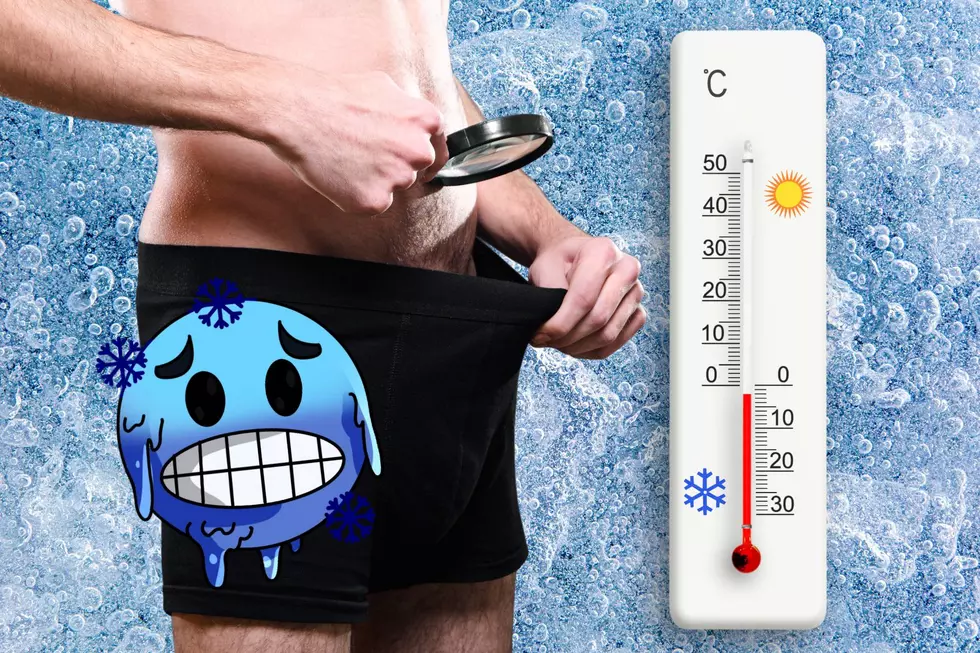 New Male Disorder Could Wreak Havoc On Baby Making In Illinois
Canva
Fellas, I have good news and bad news for those who are not well-endowed. Doctors have officially said that men who suffer from shrinkage in the winter months because of the cold aren't going crazy. What's the good news about this? You can use the cold weather as an excuse for your short lieutenant. The bad news? You still have a tiny tallywhacker.
Doctors Say That Winter Penis Is Real
The Daily Mail reported on Wednesday that doctors in the United Kingdom have officially said that winter penis is a real thing that men suffer from. Literally, Dr. Richard Viney, a consultant urological surgeon at the Queen Elizabeth Hospital in Birmingham,  told the Daily Mail  that,
"...winter penis is definitely a thing."
Luckily, it's not a disease, condition, or illness, according to Oliver Kayes, consultant urological surgeon and honorary lecturer at the University of Leeds, who spoke to the Daily Mail. Kayes said that winter penis is essentially the male body's normal physiological response to the cold.
How Does Someone Get Winter Penis?
The science is simple. Cold weather.
In Illinois, Iowa, and the Midwest, we know temperatures can get extremely cold. If you're a man, you could easily suffer from winter penis is you aren't dressed correctly.
The Daily Mail reports that when the body is in a cold environment, the body tries to keep internal organs and its internal temperature warm. To do so, the body purposely makes vessels that supply blood to the skin, and extremities like the penis and testicles, more narrow. This helps prevent cooler blood from flowing back into the body to prevent temperatures around vital organs to get colder which is bad.
Another term for everything described above is called vasoconstriction.
U.K. doctors told the Daily Mail the effects winter penis has on the size of the penis are disputed. Some sexual health experts have previously claimed that a man's manhood could shrink by up to 50% in length, according to the report.
Mr. Kayes told the Daily Mail,
So-called "Winter Penis" is a long way from these major life-changing problems that can affect some men."
How Can I Prevent Winter Penis?
Luckily, Mr. Kayes has some solid advice for men who are suffering from winter penis. Even though he told the Daily Mail that the reaction by the penis and testicles is natural when faced with the bitter cold, he said here are a couple of ways to reverse it:
"Obviously, the effects would be reversed if he managed to get an erection or sat in a warm bath for five minutes.'"
Mr. Kayes to the Daily Mail a couple of ways to prevent men from getting winter penis:
Keep warm
Stay active
Don't worry
Have Sex
I mean if the doctor says so...
Essential Winter Emergency Kit Items
Winter season in the Quad Cities means cold temperatures, heavy snow, and slick roads. Hopefully, you won't ever need to tap into your winter emergency kit, but it's better to have one in your car than to be unprepared. Make sure you have these essential items in your car before winter arrives in the Quad Cities.
The Best Places To Watch Iowa Football Games
We have gathered 15 places around the Quad Cities where people LOVE to watch Iowa Football games. Many bars with owners that are Hawkeye fans have specials on game days. Cheaper beer, special dishes, and even free shots when Iowa scores a touchdown.
We asked listeners where their favorite place to watch Iowa football was, and here is what they suggested.