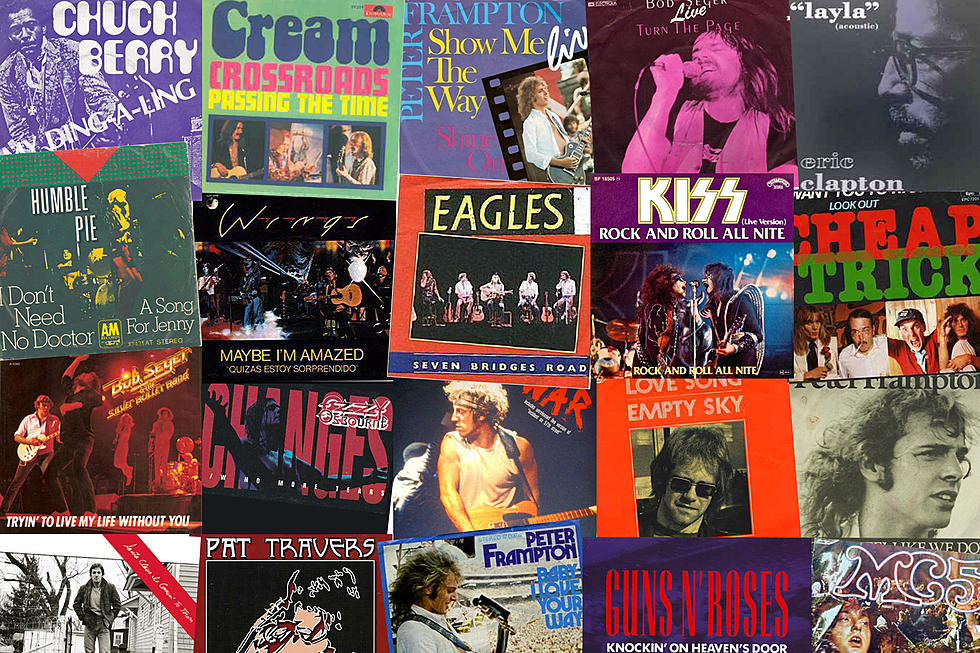 Songs That Are Best Known for Their Live Versions
UCR
Live albums aren't expected to produce hits.
They're part of most every act's catalog, but these concert sets are mostly released to fulfill contract requirements or buy some time between studio albums. They occasionally preserve special events for posterity and are sometimes released as vehicles to boost artists whose studio albums have not yet found an audience. But even then a hit single seems like a long shot – and, when it happens, a bit of an accident.
Nevertheless, they have happened. Most often it's because radio in particular has glommed on to a track as an alternative – perhaps superior – to the studio version. Think Kiss' "Rock and Roll All Nite" or the trio of singles from Frampton Comes Alive! In some cases, only live records exist – including Cream's "Crossroads," MC5's "Kick Out the Jams" and Bob Seger's "Tryin' to Live My Life Without You." In all of those cases, the live performance energy connected with an audience and gave the song – and usually the album that housed it – a successful life of its own.
Looking over decades of live releases, we've targeted 20 tracks that have either enhanced the performers' careers or, in some cases, broken the acts entirely ...
Cream, "Crossroads" (1968)
Eric Clapton started interpreting Robert Johnson's "Cross Road Blues" in 1966, while in the studio with the ad hoc all-star band Powerhouse, which included Steve Winwood and Jack Bruce. Clapton and Bruce kept "Crossroads" on the table when they formed Cream with Ginger Baker later that year, refining its arrangement as a heavy rock shuffle. The trio's live rendition was recorded on March 10, 1968, at the Winterland Ballroom in San Francisco for the live disc on Wheels of Fire; the single reached No. 17 on the Cash Box charts and was also Top 20 in Canada. "Crossroads" has remained a staple of Clapton's setlists throughout his career, and was one of the three songs performed when Cream reunited for their Rock & Roll Hall of Fame induction in 1993.
MC5, "Kick Out the Jams" (1969)
The song that introduced the Motor City 5 to the world outside of Detroit and southeastern Michigan was recorded during Halloween weekend in 1968 at the legendary Grande Ballroom, where the quintet served as the house band. With its opening declaration of "Kick out the jams, motherfuckers!" this single offered a two-and-a-half-minute microcosm of a high-octane, take-no-prisoners sonic assault that's put wind in the sails of aspiring punk rockers for decades to come. Not everybody loved it, however: Detroit's own Hudson's department store chain was among those that refused to stock the album because of the opening salutation, sparking a public-relations war with the band that ultimately led to MC5 being dropped by Elektra Records. A version that changed the obscenity to "brothers and sisters" was provided to radio stations, helping the single to reach No. 82. According to band members, however, that was without their consent.
Humble Pie, "I Don't Need No Doctor" (1971)
Humble Pie had yet to nick the U.S. charts when it released its landmark Performance Rockin' the Fillmore album. Its show-stopping rendition of "I Don't Need No Doctor" – written by Jo Armstead, Nicholas Ashford and Valerie Simpson and first released by Ray Charles in 1966 – broke the logjam. But first, the marathon, guitar-drenched 9:15 version heard on the album had to undergo a judicious 3:45 single edit. "I Don't Need No Doctor" made it to No. 73 on the Billboard Hot 100, a rare but certainly impactful visit by the band before Peter Frampton left. He'd ultimately establish his solo foothold with another famous live album.
Chuck Berry, "My Ding-a-Ling" (1972)
One of rock's earliest legends certainly rang a bell with this novelty hit from The London Chuck Berry Sessions, recorded Feb. 3, 1972, at the Lanchester Arts Festival in Coventry, England. Written and originally released by Dave Bartholomew, "My Ding-a-Ling" was based on "Little Brown Jug," a 19th-century folk song. It somehow became Chuck Berry's only No. 1 hit on the Billboard Hot 100, though the blatant, if clever, references to masturbation did cause problems. Several radio stations refused to play the single; even decades later, others opted out of airing the syndicated American Top 40 program featured "My Ding-a-Ling." The Simpsons made fun of the controversy in a 1991 episode when Lisa was prevented from performing the song by her Springfield Elementary School principal.
Kiss, "Rock and Roll All Nite" (1975)
This all-time party anthem was Kiss' first charting single, reaching No. 68 on the Billboard Hot 100 after appearing on Dressed to Kill. But they scored with the subsequent update from Alive!, released just six months later with the studio track as its B-side. The No. 12 hit in-concert version, featuring an added Ace Frehley guitar solo, brought Kiss to the masses as the first of their six Top 20 singles. "Rock and Roll All Nite" then emerged as a mainstay in their concerts, usually as the pyrotechnic-filled finale.
Bruce Springsteen, "Santa Claus is Comin' to Town" (1975)
This famed live rendition of the Christmas staple was recorded during a Dec. 12, 1975, concert at C.W. Post College in Brookville, N.Y., and rush-released to radio stations for holiday season play as a means to keep Bruce Springsteen's Born to Run momentum going. "Santa Claus is Comin' to Town" became a seasonal staple, though it would not be formally released until 1982 on the In Harmony 2 compilation and in 1985 as the B-side to the Born in the U.S.A. single "My Hometown." Still a concert favorite, the song never charted at home but did hit in several other countries, including the Top 20 in Sweden and the Top 40 in Canada and the Netherlands.
Peter Frampton, "Show Me the Way," "Baby, I Love Your Way," "Do You Feel Like We Do" (1976)
As with his previous band Humble Pie, Frampton's solo studio releases initially failed to spit out any hits. But he struck gold – platinum, actually, eight times over – with Frampton Comes Alive!, a phenomenon spoken (and joked) about in reverent terms. Both "Show Me the Way" and "Baby, I Love Your Way" had been released as singles from 1975's Frampton. Neither initially charted – until their live renditions reached No. 6 and No. 12 respectively. The big surprise, of course, was "Do You Feel Like We Do." Frampton's 14:15-long opus, complete with a talk box, was edited down to 7:22 for the single – and, despite that great length, the song worked its way up to No. 10. He would only better those numbers with "I'm In You" two years later, but without the staying power this triumvirate has demonstrated.
Bob Seger & the Silver Bullet Band, "Turn the Page" (1976)
Seger's studio recording of this haunting ballad about life on the road was released as a single from 1973's Back in '72 but did not chart. The take from 1976's Live Bullet was not released as a single but became a rock-radio staple anyway thanks to its spare arrangement, arena-sized ambience, and the late Alto Reed's saxophone peels. "Turn the Page" made enough impact to be included on Seger's first Greatest Hits set in 1994, even if it wasn't technically a hit.
Elton John, "Love Song" (1976)
"Love Song" was originally an album track, first appearing on 1970's Tumbleweed Connection, before Elton John recreated the song as a duet with its songwriter Lesley Duncan on May 18, 1974, at London's Royal Festival Hall. "Love Song" was released as a single from the live Here and There more than six years later, hitting No. 18 on the Billboard adult contemporary charts. Duncan, who passed away in 2010, also worked as a session singer for Pink Floyd, Dusty Springfield, Donovan and the Alan Parsons Project, as well as on the 1970 Jesus Christ Superstar album that preceded the stage musical.
Paul McCartney, "Maybe I'm Amazed" (1977)
One of Paul McCartney's best-known tracks was initially featured in 1970's McCartney but wasn't released as a single. The hit version of "Maybe I'm Amazed" was a carefully arranged live take from Wings Over America, which reached No. 10 on the Billboard Hot 100. Other live performances were added to the 2011 reissues of the McCartney album, including a 1979 rendition in Glasgow.
Cheap Trick, "I Want You to Want Me" (1979)
"I Want You to Want Me" made no impact as the first single from Cheap Trick's second album, 1977's In Color. As the first single from Cheap Trick at Budokan, it became the band's first real hit – a gold-selling No. 7 Billboard 200 smash. "I Want You to Want Me" would, in fact, rank as Cheap Trick's biggest hit until 1988. ("The Flame" hit No. 1 that year, then a follow-up cover of Elvis Presley's "Don't Be Cruel" reached No. 4.) The Budokan update of "I Want You to Want Me," recorded during an April 1978 stand in Tokyo, was faster and 30 seconds longer than the In Color version. It later served as the basis for "I Want You For Christmas," which the group recorded for 2012's A Very Special Christmas: 25 Years Bringing Joy to the World.
Pat Travers Band, "Boom Boom (Out Go the Lights)" (1979)
Pat Travers was five albums into his recording career when he released Live! Go For What You Know. Recorded at shows during the start of 1979, the LP broke through to platinum sales and launched the Top 20 hit "Boom Boom (Out Go the Lights)," first recorded by Little Walter. Live! Go For What You Know was co-produced by Tom Allom, who was between stints working with Black Sabbath and Judas Priest, and also spotlighted the guitar tandem of Travers and Pat Thrall. The Pat Travers Band's biggest studio hit, "Snortin' Whiskey," was written by Thrall, who later went on to work with Asia, Glenn Hughes and Meat Loaf, among others.
Eagles, "Seven Bridges Road" (1980)
The Eagles had been using Steve Young's "Seven Bridges Road" as a pre-show vocal warm-up, usually in a locker-room shower where the harmonies would reverberate. They eventually took it to the stage, singing together around one microphone. Eagles Live captured a July 28, 1980 rendition of the song – in an arrangement appropriated from Iain Matthews' 1973 album Valley Hi – during a three-night run at the Santa Monica Civic Auditorium in California that closed out The Long Run world tour. Released as a single, "Seven Bridges Road" hit No. 21 on the Billboard Hot 100, though that was the group's lowest position in six years. The Eagles then split and reunited, performing "Seven Bridges Road" again intermittently beginning in 1999.
Bob Seger & the Silver Bullet Band, "Tryin' to Live My Life Without You" (1981)
Seger added this 1972 Otis Clay single to his shows supporting the Against the Wind album in 1980, recording this performance on Oct. 6, 1980, for his second live album, 1981's Nine Tonight. Clay's original peaked at No. 102 on the Billboard Hot 100 and No. 24 on the Hot Soul Singles chart, while Seger's version of this "old Memphis song" (as he introduced it) went to No. 5. "Tryin' to Live My Life Without You" remained a recurring favorite on subsequent tours through 2017, and provided a showcase for the Motor City Horns section Seger employed in 2006.
Bruce Springsteen, "War" (1986)
Springsteen included this Motown protest song – first recorded by the Temptations before becoming a No. 1 hit for Edwin Starr – on the stadium leg of his Born in the U.S.A. world tour. The version from Sept. 30, 1986, at the Los Angeles Memorial Coliseum later appeared on the Live/1975-85 box set and served as its first single. "War" hit No. 8, making it the rare song with Top 10 appearances by different artists. Springsteen returned to the song on a subsequent tour in support of Tunnel of Love, using it even more effectively as a powerhouse bridge into "Born in the U.S.A." to close the first half of his shows.
Guns N' Roses, "Knockin' on Heaven's Door" (1987)
Guns N' Roses' rendition of the Bob Dylan classic would not be formally released as a single until 1990 when it appeared on the Days of Thunder film soundtrack on its way to Use Your Illusion II. A live version appeared three years earlier, as part of a six-song Japanese EP promoting the group's tour there. Also featured were five other live tracks plus the studio recording of "Sweet Child O' Mine." The EP was discovered by U.S. radio programmers hungry for anything new, and they promptly added "Knockin' on Heaven's Door" to playlists.
Eric Clapton, "Layla (Acoustic)" (1992)
"Layla" was hardly the first song fans expected to hear when Eric Clapton performed for MTV Unplugged on Jan. 16, 1992. How could he do justice to the electric Derek and the Dominos' epic in such a setting? Lo and behold he did, reinventing "Layla" as a languid, jazzy shuffle that showcased the melody and vocals. The update certainly polarized some fans, but enough liked it to turn the acoustic version of "Layla" into a No. 12 hit in the U.S. – just two spots lower than 1971's original. The song also hit No. 1 in Japan and Canada, before winning the 1993 Grammy Award for Best Rock Song.
Ozzy Osbourne, "Changes" (1993)
This surprisingly quiet and tender vocal-and-piano piece was not a single for Black Sabbath when Vol. 4 was released in 1972. The voice-baring "Changes" was never performed live by the band – and rarely by singer Ozzy Osbourne when he went solo. The first time he did, as the penultimate song of the show on June 24, 1992, at Red Rocks Amphitheatre in Colorado, was captured on tape and released as a single from 1993's Live & Loud album. Thanks to heavy radio play, his update reached No. 9 on Billboards Mainstream Rock Tracks chart – and another track, "I Don't Want to Change the World" went on to win a Grammy Award for Best Metal Performance in 1994. Osbourne has performed "Changes" just three other times, according to setlist.fm – twice during 2003 and once more the following year.
Rock's 100 Most Underrated Albums
You know that LP that it seems like only you love? Let's talk about those.