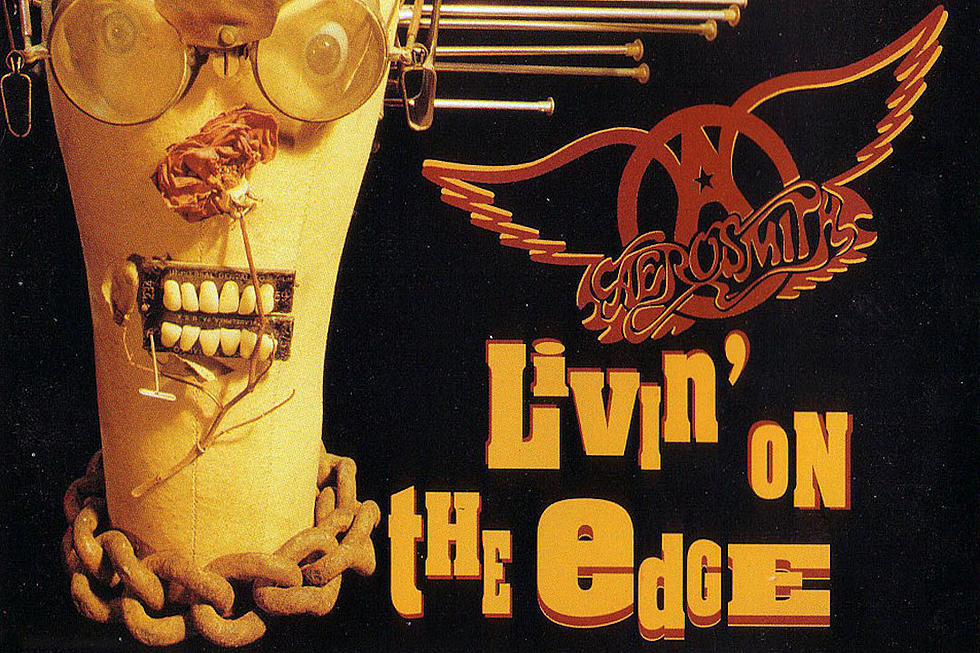 How Aerosmith's 'Livin' on the Edge' Evoked John Lennon
Geffen
Aerosmith had gotten used to defying the odds by the early '90s.
The band roared back from the brink of obsolescence with 1987's Permanent Vacation, and they proved their comeback was no fluke with 1989's mega-selling Pump. But as a new decade dawned and bands like Nirvana and Soundgarden usurped the arena-rock kingpins of the '80s, Aerosmith once again had to prove they could withstand the changing tides and not get swept away with the Ratts and Warrants of the world.
After finishing a grueling 1990 tour schedule in support of Pump, Aerosmith got down to business writing songs for what would become their 11th album, Get a Grip. The Boston rockers once again partnered with Pump and Vacation producer Bruce Fairbairn and Geffen Records A&R guru John Kalodner, who rejected the band's first pass at the album outright when he heard it in early 1992.
"I thought we were doing all right," Steven Tyler said in the band's 1997 autobiography Walk This Way. "I even said to Joe Perry, 'Look, we're on a roll. Let's write a bunch of new songs.' This is when John Kalodner said, 'This album sucks. Stop now and write a new album, or I'm taking my name off the record.'"
Incensed but undeterred, Aerosmith relocated from Los Angeles to Vancouver, home to Fairbairn's Little Mountain Sound Studios, and began whipping up a new batch of songs with a host of outside songwriters including Lenny Kravitz, Night Ranger's Jack Blades, Styx's Tommy Shaw and former teen idol Mark Hudson of the Hudson Brothers trio. Hudson, Tyler and Perry co-wrote Get a Grip's lead single "Livin' on the Edge," a supersized power ballad with lyrics inspired by the 1992 Los Angeles riots.
Watch Aerosmith's 'Livin' on the Edge' Video
Tyler threw his collaborator for a loop when their sessions began. "He goes, 'Let me ask you a question. What would you bring to the band if you were in the band?'" recalled Hudson, who had another artist on his mind when he presented his work in progress. "When I first wrote this song, I was only thinking of John Lennon, because no one had carried on the message of peace and love. And no one was doing 'Imagine.' No one was doing 'Give Peace a Chance,' 'Instant Karma.' That had gone away."
Hudson launched into the first verse of "Livin' on the Edge" — "There's something wrong with the world today / I don't know what it is / Something's wrong with our eyes / We're seeing things in a different way / And God knows it ain't his / It sure ain't no surprise / We're livin' on the edge!" — and to say Tyler was impressed would be an understatement. "Steven went, 'Stooopppp!' There was a family having dinner on his tongue," Hudson joked. "He went, 'John Lennon's in the room! John Lennon's in the room!'"
The motor-mouthed frontman also brought an element of his past to the song: a stolen bass drum from Roosevelt High School, from which he was expelled for drug use. "They told me not to come back in September," Tyler said in Walk This Way. "So I stole the bass drum I'd played in the marching band, carried it right out of school after [Tyler's high school band] the Strangeurs played the senior prom late that June. I still have it. If you listen to the three big drum notes at the end of 'Livin' on the Edge,' there it is."
Critics were not convinced of the Lennon evocation when Aerosmith released "Livin' on the Edge" in February 1993. Instead, some compared the ham-fisted social commentary and power-ballad bluster to a more contemporary (and less favorable) artist: Bon Jovi. Still, the song reached No. 18 on the Billboard Hot 100 and won a Grammy for Best Rock Performance by a Duo or Group With Vocal, proving that even the alt-rock revolution couldn't dull Aerosmith's shine. Its video also won the Viewer's Choice award at the 1993 MTV Video Music Awards, beating the likes of Pearl Jam and R.E.M.
It was a successful opening volley from what would become the biggest global album of Aerosmith's career. A trio of Top 40 power ballads — "Cryin'," "Amazing" and "Crazy," whose videos all featured future Clueless star Alicia Silverstone — pushed Get a Grip to 7 million U.S. sales and more than 20 million worldwide. The times were a-changin', but Aerosmith wasn't livin' on the edge of anything. They were perched comfortably atop their throne.
Aerosmith Albums Ranked
Any worst-to-best ranking of
Aerosmith
must deal with two distinct eras: their sleazy '70s work and the slicker, more successful '80s comeback. But which one was better?