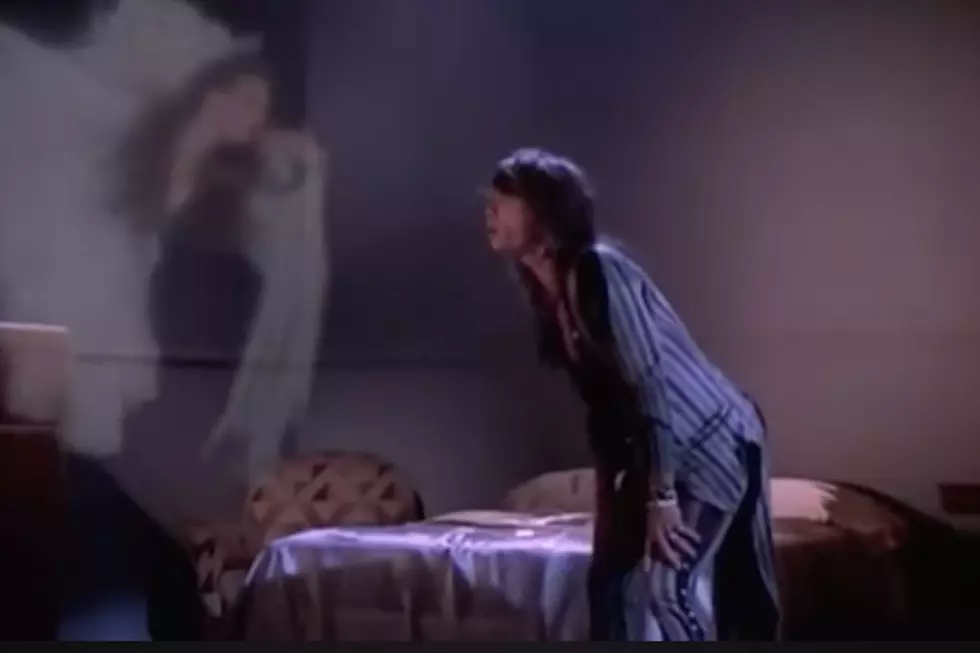 How 'Angel' Set a New Precedent for Aerosmith
YouTube
Steven Tyler might regard it as the devil in Aerosmith's discography, but "Angel" helped save the band's career when it was released as a single on Jan. 5, 1988.
The song, which Tyler wrote with Desmond Child for 1987's Permanent Vacation, played a pivotal role in Aerosmith's late-'80s resurgence. Coming off a long, fallow period that included the temporary departure of guitarists Joe Perry and Brad Whitford and a wobbly reunion on 1985's Done With Mirrors, "Angel" followed lead single (and other Child co-write) "Dude (Looks Like a Lady)" into the Top 20 of the Billboard Hot 100. It peaked at No. 3, marking their first Top 5 hit and highest-charting single until "I Don't Want to Miss a Thing" hit No. 1 in 1998.
Aerosmith met Child through John Kalodner, the A&R executive who signed the band to Geffen Records after their career hit rock bottom during the early '80s. The self-contained Done With Mirrors was a tentative step back, but as the group approached its second album for the label, Kalodner tightened the screws in hopes of having some hits. Unimpressed with what the band had cooked up at its rehearsal facility in Somerville, Mass., he suggested bringing in outside writers to help.
"I told [Kalodner] if he knew someone I could write lyrics with and have as much fun as when I'm writing songs with Joe Perry, then please bring 'em in," Tyler recalled in Walk This Way: The Autobiography of Aerosmith. After initially approaching Meat Loaf partner Jim Steinman, Kalodner reached out to Child, who was riding high off hits with Kiss ("I Was Made For Lovin' You") and Bon Jovi ("You Give Love a Bad Name," "Livin' on a Prayer"). Within a few days, the collaboration yielded "Dude" and "Angel," as well as "Heart's Done Time," which Child wrote with Perry.
Watch Aerosmith's 'Angel' Video
"I learned how to operate in this system," Tyler explained in Walk This Way. "When I tried to use Desmond as a song doctor, someone to fix a song after it's done, it didn't work for me. ... But when I used his skill and started to write with him, it became like a tapestry we worked on together. I showed him the chords to 'Dream On' and we wrote 'Angel' 10 minutes later." Tyler, Perry and Child also wrote the future hit "Crazy" around the same time, but the band saved it for 1993's Get a Grip.
The system wasn't always smooth, however. Kalodner portrayed his relationship with Aerosmith as "years of fighting," with the group occasionally balking at his strong hand. "To this day, Tyler says that I ruined his career by making him write 'Angel' with Desmond," Kalodner said. But the stats say otherwise: "Angel" ranked No. 35 on Billboard's year-end chart in 1988, and its splashy music video, directed by Marty Callner (who also worked with Whitesnake and Poison) was in heavy MTV rotation throughout the year.
By the mid-'90s, Tyler seemed to have made peace with it all. "Yes, we used some other writers to help us out of the hole," he said in Walk This Way. "Yes, I did a whole lot of lame things: 'Magic Touch,' 'Angel.' I love soppy ballads, Beatles songs like 'In My Life.' Half of me loves them. The other half is whispering, 'You fuckin' wimp. Don't put any more of that shit out!'"
Aerosmith did put more of that shit out. The five-times platinum success of Permanent Vacation set a new precedent for the group, which continued to blend its rockers with a steady stream of power ballads such as "What It Takes," Cryin'," "Amazing," "Crazy" and, of course, "I Don't Want to Miss a Thing." With a combined 19 million U.S. sales of Permanent Vacation, Pump and Get a Grip, the formula proved pretty angelic after all.
Aerosmith Albums Ranked
Any worst-to-best ranking of
Aerosmith
must deal with two distinct eras: their sleazy '70s work and the slicker, more successful '80s comeback. But which one was better?