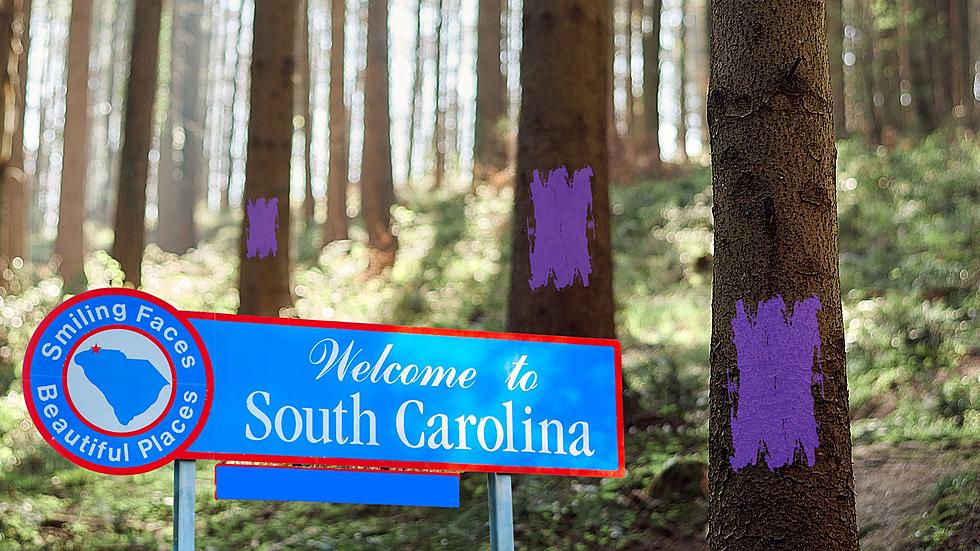 If You See Purple Paint in South Carolina, You Need To Leave
Canva
With spring slowly coming upon us and bringing nicer weather, you may find yourself hiking, walking, or running out in nature. It's always fun to make your own path in those unique hiking areas.
While you're enjoying that natural Carolinan beauty, you may come across trees marked with purple paint. It's important that you know what this means, and why you should turn around immediately.
Are These Markings Even Important?
The short answer is yes. These markings are able to take place of a warning sign that you should know so you don't end up in legal trouble. Both North and South Carolina have laws with purple paint.
In North Carolina, the Landowner Protection Act (H762) "clarifies existing trespass laws, for the purposes of hunting, fishing, and trapping, to specify the requirements for written permission on posted land only."
H762 "Allows landowners to post land using purple paint marks or by placing signs or
posters, as currently allowed."
According to Section 16-11-600 which outlines the state's laws when it comes to trespassing on private property,
(2)    by marking boundaries with a clearly visible purple-painted marking, consisting of one vertical line not less than eight inches in length and two inches in width, and the bottom of the mark not less than three nor more than six feet from the ground or normal water surface. These marks must be affixed to immovable, permanent objects that are not more than one hundred yards apart and readily visible to any person approaching the property.
Purple paint is able to be used as an alternative to signage to show property lines and private land posting.
There are some rules to how the paint is hung, however.
Each paint mark must be a vertical line of at least eight inches in length, and the bottom of the mark shall be no less than three feet or more than five feet from the base of the tree or post.
Stay safe out there, and stay vigilant so you stay where you're supposed to stay.
LOOK: Must-do activities at every national park
Stacker
lists the must-do activities at every national park ranked by the annual number of visitors.