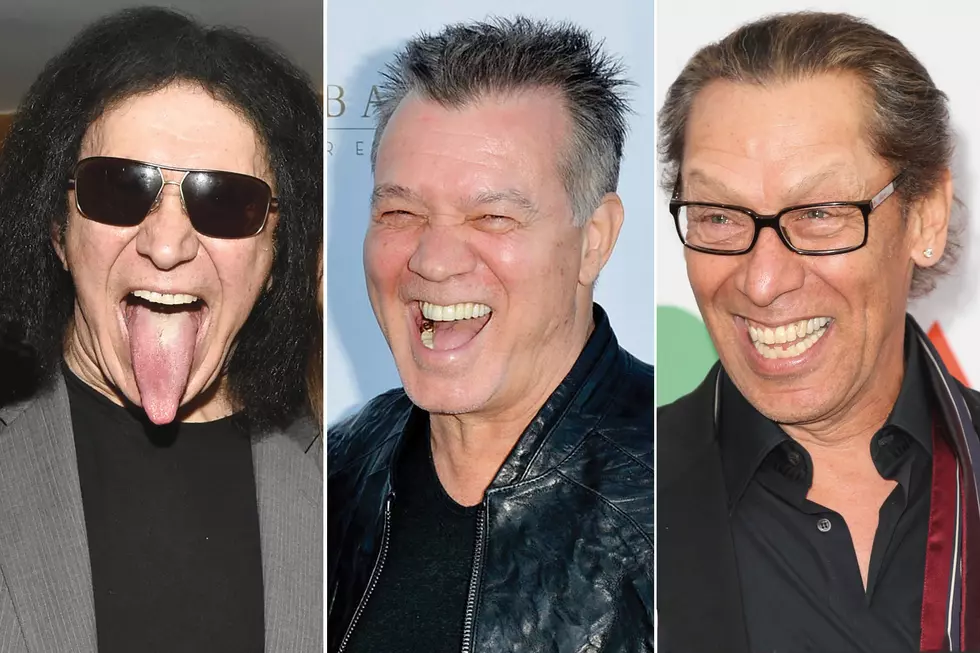 Gene Simmons Recalls Recording Demos With Van Halen Brothers
Eugene Gologursky / Jerod Harris / Imeh Akpanudosen, Getty Images
He talks about the session in a new video, which includes "Christine Sixteen" demo as backing. The rough recordings of that future Kiss track, along with "Tunnel of Love" and "Got Love for Sale," are included in the new Gene Simmons Vault collection. You can watch the clip above.
"In the middle of the night, I wanted to go in and record the three songs that I'd written," Simmons said. "I called up Edward – he likes to be called 'Edward' – 'You guys want to help me put this demo together?' 'Sure!' And literally in the middle of the night, the Van Halen brothers came down, and it was a trio, the Van Halen brothers and Simmons. I guess the only time that's ever happened. We recorded those three songs in about two hours … and the solo Eddie played on CS was so wonderful that I, unfortunately for Ace [Frehley], forced him to play note-for-note that solo."
Simmons played a significant role in establishing Van Halen. "The band has obviously gone on to do well," he noted.
In a section of sleeve notes shown in the video, Simmons explained that the inspiration for "Christine Sixteen" came from the kind of "brotherly kidding and kibitzing" he carried out with bandmate Paul Stanley. "Paul would say, 'Gene, all you ever write about are monster songs. Like 'God of Thunder,'" he recalled. "And of course, he went home and wrote that song, as a semi-parody of a Gene song. Ironically, I wound up singing it, because our then producer Bob Ezrin said he couldn't envision [Paul] singing those words convincingly. And I countered, 'Oh yeah, all you ever write are teenage girlie songs like 'Christine Sixteen.'' And as soon as I heard myself say that, I quickly wrote it."
A medley of some of the tracks available in the Gene Simmons Vault can be heard below, while more information can be found at the Gene Simmons Vault website.