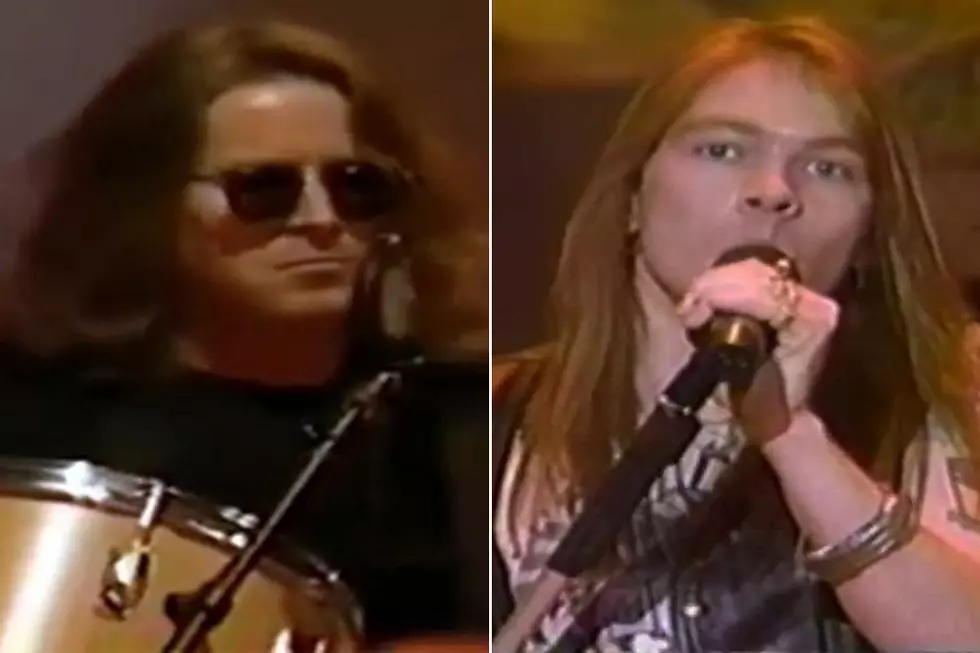 When Don Henley Joined Guns N' Roses
YouTube
It's no fun being stuck without your drummer for an important gig, but it helps if you can call on one of the biggest rock stars on the planet for temporary fill-in duty — like Axl Rose did with Don Henley when Guns N' Roses found themselves without drummer Steven Adler at the American Music Awards.
The televised ceremony, held Jan. 30, 1989, found Guns N' Roses in full flush during their meteoric rise to fame after the release of Appetite to Destruction and the hit G N' R Lies EP. In fact, they were scheduled to perform the latter title's hit single, "Patience," at the awards.
With Guns N' Roses, however, great success often came great complications. Like the rest of the band, Adler lived the rock 'n' roll lifestyle to the hilt, and by 1989, he was careening dangerously close to the edge — a disaster everyone involved tried to stave off by having the drummer enter rehab. With the lineup temporarily without a drummer, Rose turned to his labelmate Henley.
In retrospect, the pairing might seem somewhat odd, but Henley and Rose had worked together before: Rose contributed background vocals to "I Will Not Go Quietly," a track on Henley's hugely popular The End of the Innocence LP. At the time, Henley was still in the process of finishing the record; as he later recalled in an interview with Modern Drummer, Rose's session took place shortly before he got the call to sit in at the AMAs.
"I was in the studio about two or three weeks later, and the phone rang. It was Axl. He says, 'I got a proposition for you. We've got to play the American Music Awards, and our drummer's sick. We want you to play the drums,'" said Henley. "I was a little taken aback by the proposition. So I told him I'd think about it and call him back."
Henley then turned to producer Danny Kortchmar, who enthusiastically encouraged Henley to take Rose up on the offer. A few rehearsals later, he added one of the odder high-profile gigs in his career to the rock 'n' roll history books. "Fortunately, it was a ballad that we played, not a balls-to-the-wall number," said Henley.
"It was a piece of cake. There was really nothing to it. ... I think they were kind of rebelling about the whole thing. I understood that very well, because I lived through one of those periods. So, in a way, I was reliving my past. Hell, I hadn't seen Dick Clark since 1970."
 
 
Ranking Every Guns N' Roses Song