Tony Iommi Has Non-Cancerous Lump Removed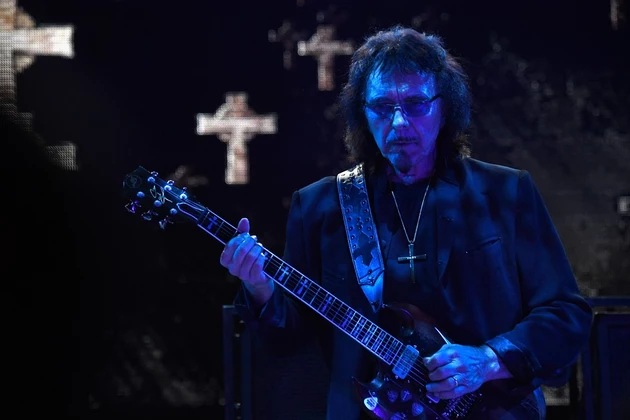 Black Sabbath guitarist Tony Iommi has dodged a potential cancer scare with the removal of a benign lump from his throat.
As previously reported, the growth turned up during a routine checkup — and although Iommi's doctors weren't initially sure whether it was cancerous, they weren't taking any chances, particularly given his recent bout with lymphoma. "The doctor said that at the moment there is no activity where I had the cancer before, but there is activity in the throat," he explained. "I have to have an operation to remove this thing at the back of my nose."
Speaking more recently to Planet Rock, Iommi revealed that the operation was a success — and added that he got his latest clean bill of health as a Christmas gift. "I had the treatment when I got back from South America," said Iommi. "They found a lump at the back of my sinus in the throat and we had to have it checked in case it may have been cancerous. But it turns out it wasn't, which I found out on Christmas Day, which is brilliant!"
Now lump-free, Iommi says he's in great shape "so far," though he joked that he was probably jinxing himself. "I'll probably fall down the stairs now!"
That bit of good news aside, Iommi was sitting for his interview to talk about his latest project: "How Good It Is," a choral piece he co-wrote in honor of the Birmingham Cathedral. Calling it "unlike anything I have done before," he told the Birmingham Post he hopes it's just the start of the new musical challenges he's ready to face now that Black Sabbath are wrapping up their final tour.
"I like new challenges. Things that are a bit out of the ordinary. Don't get me wrong, I have loved my time in Black Sabbath but the constant touring has worn me down. I want to work at home now – anything without all that traveling," he added. "I will still be making music, and I have a number of interesting offers and projects that I will look at in good time. I would like to do some film soundtrack work, maybe something else for TV, and I would like to resume my mentoring work."
Black Sabbath Albums Ranked Worst to Best
Source:
Tony Iommi Has Non-Cancerous Lump Removed